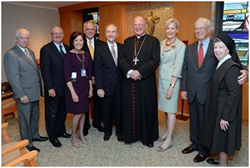 (PRWEB) February 27, 2015
The Dawn Greene Hospice, a 10-bed facility located on the 15th floor of Mary Manning Walsh Home (MMW) on the Upper East Side, was officially dedicated and blessed at a ceremony by the Archbishop of New York, His Eminence Timothy Michael Cardinal Dolan.
Thomas J. Fahey, Jr., MD, chairman of the Calvary Hospital Board of Directors and a member of the ArchCare Board of Trustees, presided over the event with remarks by Sr. Sean William O'Brien, O.Carm, executive director of MMW, and Christina McInerney, president and CEO of The Jerome L. Greene Foundation. Also present were Frank A. Calamari, president and CEO of Calvary; Scott LaRue, president of ArchCare; and many special guests.
"My mother understood the importance of making Calvary care more available to people in this great city," said McInerney. "The Dawn Greene Hospice is truly the fulfillment of her dream."
"Calvary is honored to collaborate with Mary Manning Walsh Home on this wonderful project," said Calamari. "We are both mission-driven organizations committed to delivering the best possible care to our patients."
This facility was made possible by a $4 million gift from the Jerome L. Greene Foundation to ArchCare, for the benefit of Calvary Hospital. McInerney's mother, Dawn Greene, was a strong champion of Calvary's mission for more than a decade. She was committed to the hospital's desire to establish a stronger presence in Manhattan. When Greene passed away in 2010, she left Calvary an unrestricted bequest of $5 million for its general operating expenses, the largest gift the hospital has ever received. These two gifts will ensure that Calvary care is more accessible to those who need it most.
"The Dawn Greene Hospice could not have happened without the support and tireless efforts of many people, including The Jerome L. Greene Foundation, Mary Manning Walsh Home, ArchCare, the Calvary Hospital Board and the Calvary Fund Board," remarked Dr. Fahey. "We are very grateful that this beautiful hospice can now serve the people of New York."
Calvary Hospice is a Medicare/Medicaid-certified program that provides comprehensive palliative and end-of-life care for patients with advanced cancer and life-limiting illnesses. It will provide short-term inpatient care at The Dawn Greene Hospice for patients whose symptoms and care needs cannot be met in the home setting.
The patient care program includes a full-time Calvary Hospice medical director who is Board-certified in hospice and palliative care; hospice and palliative care trained staff in nursing, social work and spiritual care; 10 newly-renovated private rooms with private bathrooms; complimentary cable television and phone service; state-of-the-art patient care equipment; family room with refrigerator, microwave oven and coffee maker; and 24/7 visiting hours.
The Dawn Greene Hospice is a partnership between Calvary and MMW. Both are part of ArchCare, the Continuing Care Community of the Archdiocese of New York.
"We are delighted to work with Calvary on this meaningful project," said Sr. Sean. "The Carmelite tradition of providing innovative and patient-focused care to the most vulnerable among us – the elderly – is aligned perfectly with Calvary's core values of compassion, care, dignity and non-abandonment."
"ArchCare's mission is to foster and provide faith-based holistic care to frail and elderly people unable to fully care for themselves, and their families," reported Scott LaRue, president and CEO of ArchCare. "We are proud that this partnership will bring Calvary back to its roots in Manhattan, where they were founded more than 115 years ago."
ArchCare at Mary Manning Walsh Home has long been the residence of choice for families on Manhattan's East Side seeking top-quality residential care and short-term rehabilitation for those they love. Mary Manning Walsh Home cares for people of all faiths and spiritual preferences in an atmosphere of grace and elegance.
Jerome L. Greene, a New York real estate attorney and philanthropist, founded the Jerome L. Greene Foundation, a family foundation dedicated to furthering the causes of education, the arts, health and social justice, in 1978. His widow, Dawn Greene, headed the Foundation until her death in 2010. Christina McInerney, Dawn Greene's daughter, is now president and CEO. She joined the Foundation's Board in 1999 and became its executive director in 2002.
To learn more about ArchCare and the Mary Manning Walsh Home, visit: https://www.archcare.org.
About Calvary Hospital:
Calvary Hospital is the nation's only fully-accredited acute care specialty hospital devoted exclusively to providing palliative care to adult advanced cancer patients. A 225-bed facility with locations in the Bronx and Brooklyn, Calvary is the model for the relief of cancer pain and symptoms for more than a century. More than 6,000 patients are cared for annually by Calvary's inpatient, outpatient, home care, hospice, nursing home hospice and wound care services. To learn more or sign up for the e-newsletter, Calvary Life, please go to http://www.calvaryhospital.org.