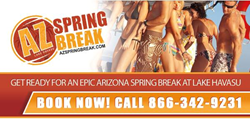 Lake Havasu, AZ (PRWEB) March 02, 2015
The 2015 AZ Spring Break at Lake Havasu promises to be even more amazing than last year as London Bridge Resort goes all out with its lineup of unforgettable events and amazing entertainment. The party gets started March 6, 2015 at London Bridge Resort Lake Havasu with top named DJs, such as Danny Boi, and national recording artists, LV Sharp and Joey Badass on the schedule to perform during the event.
AZ Spring Break, the biggest spring break event in the western United States, offers students a variety of ways to blow off steam and escape the rigors of studying with fun contests, dance parties and food and drink specials. Participants can expect to enjoy events such as:

Rejoove Pool Party at Kokomo
Pong Tournament
Walla Ball Championships
Hula Hoop Tourney
Fireball Drink Specials
And more!
National recording artist and Arizona native, LV Sharp will be a headliner during AZ Spring break this year. Also on the entertainment roster is American hip-hop recording artist, Joey Badass, a BET Hip Hop Award nominee.
Check out the Official 2015 Spring Break Entertainment lineup at AZ Spring Break Events.
London Bridge Resort, considered the official AZ Spring Break headquarters, is offering two affordable AZ Spring Break Party Packages. The all-suite accommodations start at $50 per person*, with rooms featuring flat-screened TVs, kitchenettes and amenities such as wireless Internet access, three swimming pools, a Jacuzzi and 94-foot water slide. Also, both packages come with extra spring break perks, including free covers at select venues, discounts at the area's most popular restaurants and bars, a free Party Shark Card (for additional discounts) and complimentary souvenirs.
About London Bridge Resort Lake Havasu
Situated on the banks of Lake Havasu, London Bridge Resort is an all-suite property with a full range of resort amenities and conveniences, including day spa, gift shop, golf, tennis, conference facilities, concierge services and onsite restaurant and nightclub. Every year, thousands of college students descend on Lake Havasu for spring break, with many taking advantage of the accommodations at London Bridge Resort, the official headquarters of AZ Spring Break.
*Based on quad-occupancy