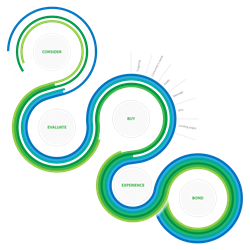 With better understanding of consumer, Red Orbit optimized Big Bang's digital performance.
Ljubljana, Slovenia (PRWEB) March 03, 2015
Campaign "From First Click to Last Conversion" created by Red Orbit, a Slovenian based digital marketing performance agency, for their client Big Bang, biggest consumer electronics retailer in Slovenia, won a Digiday Retail Award in "Best Use of Data" category.
Winners were announced at the beginning of February in New York. The Digiday Retail Awards honors overall excellence and breakthrough achievement in online retail marketing and advertising. It recognizes brands, agencies and technology used in order to successfully build retail brand identity and awareness, while creating the best user experience for the digital customer.
Red Orbit has won "Best use of data" category for the most innovative use of data in digital marketing with its goal of increasing sales. The winning strategy included a holistic approach on tracking the consumer decision journey and innovative cross-channel data linking between traditional and digital media. At the beginning of 2014, Red Orbit and Big Bang prepared a detailed plan of tracking the consumer decision journey. Big Bang's goal was to improve effectiveness of digital marketing and to offer consumers relevant content and better offers.
At the beginning Red Orbit implemented advanced digital analytics, which enabled both parties to track consumers throughout the consumer decision journey, cross-channel and on multiple devices. With better understanding of the consumer, Red Orbit optimized Big Bang's digital performance. At the same time, the retailer has implemented in-store changes based on analytical findings. This resulted in significant increase of on-line sales, conversions on website, increase in average purchase value and number of on-line orders.