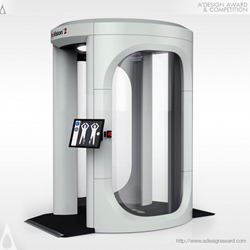 Como, Italy (PRWEB) February 27, 2015
A' Design Award and Competition is pleased to annouce that the work ProVision2 by Intelligent Product Solutions has been awarded with the prestigious Golden A' Design Award at Security and Surveillance Products Design Competition.
Insights on ProVision2
Intelligent Product Solutions, the lead designer of the winning design ProVision2 says "The ProVision 2 with Automatic Target Detection is a scanner offering excellent checkpoint detection and throughput. It screens passengers using safe millimeter wave technology to automatically detect concealed objects both metallic and non-metallic. ProVision 2 conserves space with a smaller footprint for efficient installation in areas with 8 foot(2.4 meter) ceilings. Featuring a modern and attractive exterior, it fits easily into tight aviation checkpoint areas. The passenger experience is convenient and efficient, requiring only a single stationary position during a 1.5-second scan." Learn more about the award winning design: https://competition.adesignaward.com/design.php?ID=30436
Project Members for ProVision2
ProVision2 was designed by Director Joseph Toro, Program Manager Boris Metlitsky, Designer Wes Rhoad, Designer Sven Johnson, Designer Ravi Varma, Engineer Steve Hamblin, Engineer Karl Keppeler and Engineer Kang Pin Tee.
The Golden A' Design Award
The Golden A' Design Award is a prestigious award given to top 3% percentile designs that has accomplished an exemplary level of sublimity in design. The designs are judged by a panel of three different jury which is composed of Academic, Professional and Focus Group Members. The designs are evaluated with score normalization to remove any biases and are voted on aspects such as functionality, ergonomics, engineering, presentation, innovation, usability, fun details, technology, and any other specific points that could be considered, each of these points are further weighted for different jury groups. Laureates of the A' Security Design Awards are listed at World Design Rankings.
About A' Design Award and Competition
A' Design Award and Competition aims to highlight the excellent qualifications of best designs, design concepts and design oriented products worldwide. A' Design Award and Competitions are organized and awarded annually and internationally in multiple categories to reach a wide, design-oriented audience. The primary aim of the design accolade is to create a global awareness for good design practices and principles worldwide. Learn more about the design competition here: http://www.whatisadesignaward.com