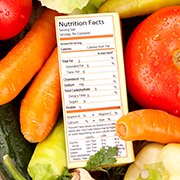 Food manufacturers never have to worry about their product labels falling short of the mark
Denver, CO (PRWEB) March 03, 2015
March is National Nutrition Month, and it comes right on the heels of American Heart Month in February, so it's fair to say that at this time of year, consumers will be more reliant on food labels than ever to help them make optimal choices. With this in mind, companies in the food and beverage industry should work to make life easier for shoppers by offering insight into the nutritional aspects of their products - with a little help from Lightning Labels.
People always appreciate labels that are clear and informative, but this is particularly the case during periods when they're feeling especially gung-ho about making healthy choices. The cause of this enthusiasm can run the gamut from personal motivators - a chat with one's doctor about lowering cholesterol or losing weight, for instance - to more widespread initiatives, such as campaigns like National Nutrition Month.
Ensuring Nutrition Labels Highlight Pertinent Information is Paramount
When they're browsing the aisles, consumers' attention spans are short, so nutrition labels need to be eye-catching and easy to read. If the designs printed on packaging are lackluster, the text on stickers and labels is illegible or there's another issue that makes a product pale in comparison to the items next to it on the shelf, sales are sure to suffer as a result. Especially at this time of year, it's critical to prominently display nutritional information in a clear font that's large enough for shoppers to read while also standing out against the background of the label. Failure to do so could cost companies dearly - not necessarily because their products don't have nutritional value, but because the items' ingredients, calorie content and other pertinent details aren't legible. Working with Lightning Labels will ensure that food manufacturers steer clear of these kinds of issues.
"Thanks to our digital printing press, food manufacturers never have to worry about their product labels falling short of the mark," said Scott Proctor, vice president of sales at Lightning Labels. "Our vibrant, crisp custom labels and stickers will set food items apart from the rest."
Use National Nutrition Month to Trumpet Products' Benefits Via Custom Labels
There are many different ways in which a food item can have nutritional value, so it could be argued that most products have something to offer consumers eager to make smart choices - companies just need to make sure their custom labels properly advertise this. Even chocolate, the quintessential guilty pleasure, has been touted for its positive effects on the brain and heart, among other benefits. Companies in the food and beverage industry would do well to hone in on the nutritional value of their products and prominently promote these on the labels custom labels they produce through Lightning Labels - not just during National Nutrition Month, but at any time of year. After all, healthy eating isn't just confined to March.
About Lightning Labels:
Lightning Labels uses state-of-the-art printing technology to provide affordable, full-color custom labels and custom stickers of all shapes and sizes. From small orders for individuals to the bulk needs of big businesses, Lightning Labels is equipped to handle and fulfill custom label and sticker projects of all types. Best of all, like the name implies, Lightning Labels provides a quick turnaround for every customer's labeling needs. Uses for Lightning Labels' custom product labels and custom stickers include food packaging and organic food labels, wine and beverage labels, bath and body labels, and nutraceutical products, such as vitamins, essentials oils, and herbal remedies, as well as event stickers, adhesive window stickers and more. Lightning Labels strongly supports the development of environmentally friendly printing materials and carries EarthFirst PLA, a new kind of green label material made from corn instead of petroleum. While operating as a high-tech printer, Lighting Labels prides itself on its personalized customer service. Lightning Labels provides one stop shopping for all of your custom label needs. For more information and to place orders online, visit LightningLabels.com. For the latest in packaging news and labeling promotional offers, find Lightning Labels on Twitter (@LightningLabels), Facebook, Pinterest, Google and LinkedIn.