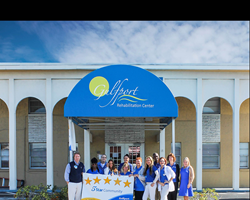 "We're grateful to everyone who played a part in the revitalization of this valuable community resource." – Joe Steier, President and CEO
S. Pasadena, Fla. (PRWEB) February 27, 2015
Gulfport Rehabilitation Center recently earned a five-star rating from the Centers for Medicare & Medicaid Services (CMS), the federal agency tasked with nursing home oversight. This was a landmark achievement considering the nursing and rehab center was closed not so long ago.
CMS notified the former Pasadena Manor, then under a different operator, in 2011 that payments would be cut due to a series of regulatory problems. The facility went on to close its doors.
With a proven track record as a 'turnaround company,' Signature HealthCARE assumed operations and set out making improvements. New leadership was hired, the facility was re-staffed and more than $2 million was allotted for life safety and other upgrades. Considerable 'sweat equity' was also invested into the project.
"Over thousands of hours, with amazing teamwork and unwavering faith, the center opened again," said Signature HealthCARE President and CEO Joe Steier. "When Signature has been called upon, I have watched my partners take risks no one else would to expand services and save centers, turning them from 'worst to first.' We're grateful to everyone who played a part in the revitalization of this valuable community resource."
Sean O'Malley joined the facility as Administrator in September 2013 and was pivotal to reviving the center. He emphasized the importance of high expectations, reinforcing the Signature culture and always looking for growth opportunities, while marking sure staff members were validated for their hard work and that people were having fun.
Meanwhile, monitoring tools, consistent customer follow-up and grassroots marketing and networking have helped restore the facility's once-damaged reputation in the community. And during its most recent engagement survey, Gulfport scored a 4.4 out of 5, placing it in the highest category and indicating that staff members 'perform at consistently high levels.'
Gulfport reopened its doors in January 2014 and achieved its five-star rating late last year.
"Getting Gulfport to this point has been challenging at times, but also a high point of my career," O'Malley said. "I could not be prouder of this team for bringing this dream to reality."
For more on the Gulfport story, check out the recent article published by Provider Magazine. For more about Gulfport Rehab Center, visit GulfportRehabilitation.com. And for more about Signature, visit LTCRevolution.com.