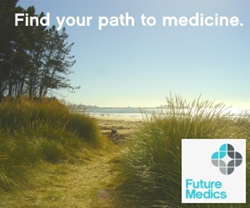 Our aim was to remove the barriers to medical school entry by making the inside knowledge on applications more available to students from any background
York, UK (PRWEB UK) 2 March 2015
Application to UK Medical schools is becoming more straightforward and inclusive thanks to Dr Tom Milligan, a GP Partner in East Yorkshire, founder of Future Medics. The membership site provides video based teaching on all aspects of medical school entry, as well as motivational apps that help students complete their preparation.
Medical students enjoy the highest average pay of any graduates as well as having a 99.4% chance of being in full time education or employment at 6 months after graduation. No wonder there is stiff competition to win a university place! Recent revelations from the Medical Schools Council however, confirm that over half of UK secondary schools had not provided a single medicine applicant in the past 3 years. The abolition of the school careers service in 2013 has also created an additional need for clear and accessible information and support for all.
"Our aim was to remove the barriers to medical school entry by making the inside knowledge on applications more available to students from any background" says founder Dr Tom Milligan. "By learning about the application process, students can tailor their experiences to improve their chances in the process''. The site boasts over 45 educational videos as well as a reflective diary and practice UKCAT questions. ''We include support for all aspects of medical school entry.''
Dr Tom Milligan's interest in helping prospective medical students was honed by his experiences teaching medical students and sitting on university interview panels for Medical School entry. Educational theory and business support is offered by Founding Partner, Karina Milligan. 'My background in teaching and business help me offer support to students and their families.'' Additional information is provided by a myriad of experts ranging from medical school selectors to communication experts, senior doctors, simulated patients and a psychologist. "We've worked hard to pull together the best resources possible to help students get in to Medical School. We were conscious of lots conflicted information that's out there at the moment and really wanted to create something that was not only informative but also practical, offering students skills that will serve them well beyond the application process."
The site has taken 3 years in development. 6th Form students were involved in the site design at all stages. "Collaboration with 6th Form students in the process ensures the student's needs are well met'' says Karina."From that, we knew how important it was for students to feel a part of the process and not just dictated to, so we looked to provide something that's much more interactive, using motivational techniques throughout designing the course. This means that students take ownership for their work and success."
Future Medics has recently collaborated with students at Nottingham Widening Access to Medicine and has provided free places to students in that scheme. ''It is really important for Future Medics to provide support for disadvantaged students too, so that the people coming into medicine reflect the populations that they serve. One of our main motivators has been about widening access to medicine''.
Future Medics launches on 2nd March 2015 and is a membership website supporting aspiring doctors with all aspects of medical school entry. Membership costs £100 for the first year and £20 for additional years. Those wishing to find out more can take a free trial of all parts of the site at http://futuremedics.co.uk. The team at Future Medics are excited to get started in helping students to reach their goals. "We're really proud of the site and so grateful to everyone that has been a part of helping us to achieve this. We can't wait to see Future Medics grow and support aspiring doctors, whatever their background."