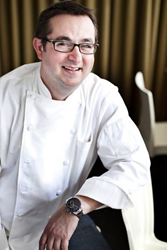 Remington's will bring the upscale-casual feel of a classic American grill to the heart of contemporary Chicago.
Chicago, IL (PRWEB) February 27, 2015
4-Star Restaurant Group is targeting May 5th for the public open of their highly anticipated classic American grill, Remington's. Located in the historic 20 N. Michigan Avenue building, Remington's (http://www.remingtonschicago.com/) sits directly across the street from the world famous Cloud Gate. While the space is currently under renovation, executive chef Todd Stein of Iron Chef America fame is putting the finishing touches on the menu. This marks the first entry downtown for 4-Star Restaurant Group, owners and operators of a venerable portfolio of Chicago neighborhood restaurants, including: Crosby's Kitchen, The Smoke Daddy, Dunlay's, Frasca Pizzeria & Wine Bar, and D.O.C. Wine Bar.
"We're looking to blend our neighborhood-centric restaurant model with the fast-paced downtown landscape," said 4-Star partner Josh Rutherford. "Remington's will bring the upscale-casual feel of a classic American grill to the heart of contemporary Chicago. The genuine hospitality that 4-Star restaurants are known for will set the standard on Michigan Avenue."
About the Design & Atmosphere:
4-Star took over the space formerly occupied by Caffé Baci in fall 2014. Since then, they completely gutted all 6,200 square-feet, and contracted Mark Knauer, a leading visionary in the hospitality design business, for a complete rehab. With a projected seating capacity of 250, Remington's will exude "urban chic," while maintaining an air of warmth and ease.
As far as Millennium Park sightlines go, Remington's will be second to none. The entire store front features retractable floor to ceiling windows which will open completely to the sidewalk, so that everyone in the bar area will feel like they're sitting on Michigan Avenue, staring right at Chicago's most transformative work, the iconic "Bean." Guests will feel comfortable patronizing Remington's whether they're shopping, getting off work, having a date, or taking the family out for a meal.
The new build-out includes a large dedicated bar accented with deep mahoganies, a main dining room with plush booths and tables, an open air kitchen, and several different options for private dining or sizable parties, including a private event room, a private lounge, and a private wine room. The private event room will be available for parties or meetings up to 50 people and will be completely secluded, with two smart TVs for video presentations and multiple meeting or dining layout options. The lounge area in the front of the restaurant will be available for social cocktail parties up to 30 people. Lastly, a central wine room will yield to intimate dinners for up to 12 people.
One common theme with all 4-Star restaurants is that they are located in neighborhoods. "We fully understand the responsibility and privilege that comes with operating a business in a tight community," said 4-Star partner Doug Dunlay. "We excel at this type of relationship by embracing and partnering with neighborhood schools, groups, chambers and non-profits, as well as offering high quality food and service at reasonable prices. 4-Star has an obligation to give back to its neighborhoods, and we look forward to translating that same philosophy to our new location downtown."
About the Food & Drink:
Remington's will serve lunch and dinner Monday through Sunday, as well as an upscale weekend brunch. Chef Stein is spearheading the scratch kitchen focused on ingredient-driven, American classics sourced from local farms and purveyors. The menus will feature small plates and American-focused fare that changes seasonally. High quality ingredients will take center stage, highlighted by a raw bar with oysters from both coasts and sushi, fresh salads like 4-Star's original Wrightwood Salad or Brussels Sprout Salad, and prime rib, chicken, leg of lamb, or beef tenderloin off a wood-fired oven rotisserie. Other signature menu items include: lobster deviled eggs, multiple fresh fish options, New York strip steak, rotisserie pork chops, and jumbo lump crab cakes.
Remington's wine list will feature over 20 interesting yet approachable wines by the glass, and another 80-plus options by the bottle. The well-crafted list and educated staff will make the selection of wine easy and non-threatening, so that every palate can savor the perfect pairing. For beer lovers, Remington's will feature numerous local craft breweries on draft, along with a large selection of imported and domestic choices by the bottle. A streamlined, craft cocktail list will be classic in nature, yet innovative and ever-evolving.
About 4-Star Restaurant Group:
4-Star Restaurant group has brought Chicago some of its most prominent neighborhood spots, including The Smoke Daddy, Frasca Pizzeria & Wine Bar, Dunlays (Lincoln Park and Logan Square), D.O.C. Wine Bar (Chicago and Lombard), Crosby's Kitchen and The Windsor (opening June, 2015 in Streeterville) and Remington's. Like the four stars on the Chicago flag, of which their corporate name and logo pay homage to, each of 4-Star's four owners – Doug Dunlay, Mike Dunlay, Derek Rettell, and Josh Rutherford – is committed to 'cultivating community' through their growing line of restaurants. It starts with a desire to build relationships with everyone that comes through their doors. 4-Star restaurants have something to offer for every taste bud. Above all, 4-Star offers authenticity, which is evident in everything from their modest prices to their high-quality food to their friendly and knowledgeable wait staff. http://www.4srg.com.