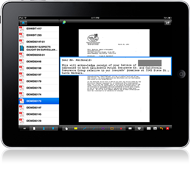 EOUSA selects TrialDirector to manage and present evidence in US states, districts and territories.
Gilbert, Arizona (PRWEB) March 02, 2015
inData Corporation, a provider of software and trial services for legal professionals, announced that the Executive Office for United States Attorneys (EOUSA) has selected TrialDirector software for preparing, managing and presenting trial evidence throughout all 50 states, the District of Columbia, Guam, the Marianas Islands, Puerto Rico, and the U.S. Virgin Islands. As part of a multi-year licensing and service agreement, inData is also providing advanced training for attorneys, paralegals and technicians who will be using and supporting the software.
Derek Miller, CEO and President of inData Corporation, stated, "We are pleased that EOUSA has selected inData's TrialDirector to meet their trial technology needs and we look forward to providing exceptional software and service for years to come."
About inData Corporation
Founded in 1984, inData is a technology company specializing in the management and presentation of information. inData develops innovative software and uses seasoned trial experts to provide software training, trial consulting and graphic services to legal professionals dealing with the challenges of litigation. Software products include TrialDirector®, in addition to TimelineXpress®, TimeCoder™ Pro, DepoView®, and TDNotebook®.