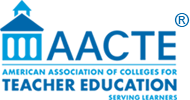 Atlanta, GA (PRWEB) February 27, 2015
Teacher educators from across the country convene today in Atlanta for the American Association of Colleges for Teacher Education (AACTE) 67th Annual Meeting, "Advancing the Imperative."
"The annual meeting affords educators preparing the next generation of PK-12 teachers the opportunity to come together to share new research, innovation and strategies to ensure all teachers enter the classroom ready to teach on day one," said Sharon P. Robinson, President and CEO of AACTE.
Featured conference speakers include Etta Hollins, the Ewing Marion Kaufmann Endowed Chair for Teacher Education at the University of Missouri-Kansas City and editor of the forthcoming book "Rethinking Field Experiences in Preservice Teacher Preparation"; Marc Tucker, President, CEO and founder of the National Center on Education and the Economy and A. Lin Goodwin, Evenden Professor of Education and vice dean at Teachers College, Columbia University.
Concurrent sessions feature paper presentations, discussions and forums on critical issues in educator preparation including assessing candidate quality, preservice and clinical experience, increasing the diversity of the teaching profession and innovative curriculum and teaching strategies.
###
AACTE: The Leading Voice on Educator Preparation
The American Association of Colleges for Teacher Education is a national alliance of educator preparation programs dedicated to high-quality, evidence-based preparation that assures educators are ready to teach all learners on Day 1. Its over 800 member institutions represent public and private colleges and universities in every state, the District of Columbia, the Virgin Islands, Puerto Rico and Guam. AACTE leads the field in advocacy and capacity building by promoting innovation and effective practices as critical to reforming educator preparation. For more information, visit http://www.aacte.org.