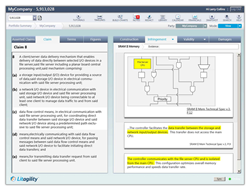 BridgeIP builds on previous custom software used by AMLaw 100 law firms and Fortune 1000 companies.
Boston, MA (PRWEB) March 17, 2015
Litagility Inc. is pleased to introduce software that will improve team performance, lower litigation costs and, most importantly, improve results.
Over the past few years, numerous reports, surveys and articles have consistently pointed to in-house counsel's desire for more transparency, predictability and accountability from their outside counsel engaged in managing patent litigation cases.
Litagility's BridgeIP and BridgeINDEX applications are used as a centralized and secure mechanism that captures the litigation team's analysis, strategy, and key work product and provides up-to-date financial reporting for both in-house and outside counsel.
According to Litagility President, Larry Collins, "BridgeIP™ builds on previous custom software used by AMLaw 100 law firms and Fortune 1000 companies. Combined, the result is better overall case transparency, more predicable outcomes and sustainable cost reduction."
Bridge enables In-House Counsel to:

See the analysis and thinking behind your case and view the evidence in real-time without outside counsel's potential bias.
Ensure that case work is performed efficiently by the appropriate team members at the right time.
Evaluate the case merits in the same context as the judge and jury will see the case.
Record, measure and analyze every aspect of all the litigation efforts by the law firms doing work for you.
Bridge enables Outside Counsel to:

Reduce the time required to perform everyday tasks during the entire litigation life cycle.
Efficiently harness the knowledge and experience of the entire litigation team as case strategy is developed and refined.
Enable senior trial team members to engage and direct the team more efficiently throughout the entire litigation life cycle.
Greatly reduce preparation time for client briefings and internal team meetings.
Streamline preparation for Markman hearings, expert reports and trial preparation.
Capture, manage and institutionalize individual attorney knowledge, thus eliminating duplication of work as attorneys come on and off cases.
To learn more, visit http://www.Litagility.com