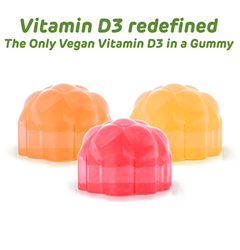 Vista, California (PRWEB) March 02, 2015
The GHT Companies (GHT) will unveil a D3 gummy product exclusively formulated with its vegan vitamin D3 powder at the upcoming 35th annual Natural Products Expo West.
The D3 gummy will take pride of place at GHT's booth [Hall A / Booth #762] at the show which is being held March 6-8 at the Anaheim Convention Center.
More than 60,000 people are expected to attend Expo West, the world's largest event devoted to natural and specialty food and beverages, organics, supplements, health and beauty, natural living and pet products.
GHT's D3 gummy, which is available for private labeling, is Non GMO, Gluten free, Kosher approved, and Halal approved. It comes in three flavors—strawberry, orange and lemon.
Several studies suggest that vitamin D3 is 70 percent to 87 percent more potent than vitamin D2 and easier for the body to absorb. Vegan Vitamin D3, which is derived from lichen, is the only known source of vitamin D3 that uses absolutely no animal products. Previously, as D3 usually comes from lanolin extracted from sheep's wool grease, vegans would have had to settle for vitamin D2, the less-effective ergocalciferol form of Vitamin D.
The GHT Companies' President and CEO, Jim Rex states, "We are proud to offer the only known vegan vitamin D3 in a gummy. This is the result of a one year R & D effort, coupled with our exclusive rights as the North American resource for our unique Vegan Vitamin D3 raw ingredients. Our partner, Chemroy Canada, Inc., and our companies will currently be the only sources of these gummies in North America. It's just a part of our vision coming to fruition, which is to be at the forefront of introducing unique and groundbreaking health discoveries to the nutraceutical markets."
While GHT's Vegan D3 Gummy will be the centerpiece of the booth, the group's other business units will also be represented including Health Specialties Manufacturing (HSM), Vibrant Nutraceuticals (Vibrant), Global Health Trax (Global) and Green Leaf Sciences (GLS).
GHT has collaborated with leading practitioners, nutritional experts and scientists for over 14 years to develop concepts into life-changing products, services and applications. The company is acknowledged as one of the pioneers in probiotics before the advent of big brands and popularization of yogurt through TV commercials.
Last year HSM, the group's manufacturing company, considerably boosted its capabilities to blend and package powder-based dietary supplements. A remodel of its 2400 sq. ft. powder production room included the addition of key pieces of equipment that not only stepped up its volume but also enabled enhanced in-house quality controls.
Under its own Vibrant and Global brands, GHT supplies a wide range of high quality nutritional supplements in a variety of delivery systems.
Recently, GHT announced the launch of Green Leaf Sciences (GLS), a new health and nutrition company exclusively focused on meeting the needs of professional health practitioners. The company offers a unique "Connected Health System" providing eight proprietary products, as well as services and tools for health professionals. GLS is the exclusive resource for this comprehensive system, designed for practitioners to help their patients/clients improve their overall health.
For more information, please visit http://www.ghthealth.com; call 1-800-305-5710 or 1-760-542-3000, or stop by our booth 762, Hall A, at Expo West.
About The GHT Companies
The GHT Companies has been one of the most trusted names in the nutritional supplement field since 1996. The group is structured to collaborate with founding scientists to develop their unique ingredient and product discoveries, and to deliver industry-leading, high quality consumer products on a global basis. GHT's core purpose is: "Translating Scientific Discovery into Business Enterprise."