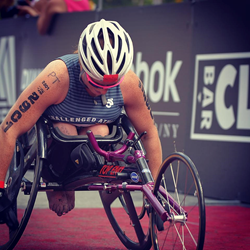 I hope to inspire other young athletes with disabilities to make their dreams come true.
Chicago, IL (PRWEB) February 27, 2015
Mary Kate Callahan is paving the way for athletes with disabilities across the country. Not only is she advocating for equal participation rights throughout college sports, but the star member of the USA Triathlon team and University of Arizona Tricats has also been named the first ever Live to Achieve ambassador by Variety, the Children's Charity of Illinois. Live to Achieve is a groundbreaking grant program which enables young athletes with disabilities in Illinois the opportunity to pursue their dreams of sporting excellence – on the local, state, national and world stages – by providing the funds (not covered by insurance) necessary for training, travel and equipment. In this role, Callahan, originally of La Grange, Illinois, promotes Live to Achieve through public appearances, social media, and spreading the Variety message at competitions, regionally, nationally and worldwide.
"Live to Achieve gives children the resources they need to compete at different starting lines, whether it's a grant for a racing chair or a to compete at a championship, they're letting kids get out there," said Callahan. "Sports have done so much for me, I feel lucky to help raise awareness for Variety and hope to inspire other young people to make their dreams come true."
During her high school swim career, Callahan worked with the Illinois Attorney General and Illinois' protection and advocacy agency, Equip for Equality, to compel the Illinois High School Association to integrate high school athletic competitions. As a result of this effort, Callahan and six other student athletes were the first disabled athletes in history to compete at the Illinois High School Swim Championships in November of 2012. While in high school, Callahan also began competing in the sport of paratriathlon. As a senior she was the youngest athlete to be a member of Team USA that competed at the World Paratriathlon Championships in New Zealand. Since becoming a student at the University of Arizona, Callahan has continued her athletic journey in paratriathlon, winning several events on the world stage, and is now the 4th ranked female paratriathlete in the world in her classification.
Like she did in high school by advocating for students with disabilities to compete at the state championship level, Callahan is now also changing the sports culture at the college level, where she is helping athletes with disabilities participate alongside able-bodied athletes. The collegiate level of the sport of triathlon is considered an emerging sport by the NCAA and is organized as a club sport. In support of its evolution, Callahan has been leading an effort for USA Triathlon to include "paratriathlon" in the currently run Collegiate National Club Championship. As a result of this effort there will be a paratriathlon division at the April, 2015 Collegiate Nationals in Clemson, S.C.
"I'm so thrilled to be able to compete alongside all of my teammates in college," added 19-year-old Callahan. "Integrating sports was a huge part of my high school experience and so now translating that to college has been a major achievement. I hope our momentum continues and opens more doors for student athletes with disabilities to compete as equals."
About Variety, the Children's Charity of Illinois:
Variety the Children's Charity is a nonprofit corporation dedicated to promoting and protecting the health and well-being of children around the world. Through our network of 43 Tents (or Chapters) in 13 countries, Variety reaches into communities across the globe to offer financial assistance and services to children and organizations that serve children with disabilities. The mission of Variety of Illinois is to improve the quality of life for children with disabilities by providing the equipment and experiences needed to reach their highest potential. Visit http://www.varietyofillinois.org to see our programs in action.
To learn more about Variety of Illinois and apply for Live to Achieve, visit http://www.varietyofillinois.org.