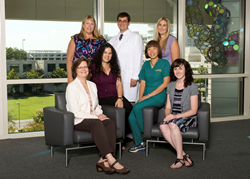 SACRAMENTO, Calif. (PRWEB) February 27, 2015
The UC Davis Huntington's Disease Center, whose compassionate patient care and research expertise have made it a beacon of hope for people with Huntington's disease throughout Northern California and beyond, has been acknowledged by the national society committed to the values that it so ably upholds the Huntington's Disease Society of America — as a Level 1 Huntington's Disease Center of Excellence.
The acknowledgement recognizes the center's service to over 300 families coping with Huntington's disease and its plan to provide both medical and social services to a large number of underserved families coping with Huntington's disease who are affiliated with Kaiser Permanente in Northern California.
Huntington's disease is an inherited, degenerative brain disorder for which there is no cure and only one Food and Drug Administration-approved treatment, Xenazine ® (tetra benazine). The condition slowly diminishes the affected individual's ability to walk, talk and reason. They eventually become completely dependent upon others for their care.
"The Huntington's Disease Society of America was impressed with the scope of UC Davis' plan to provide expert care to the large number of underserved families who use the Kaiser Permanente insurance system," said Louise Vetter, chief executive officer of the Huntington's Disease Society of America. "UC Davis has our continued thanks for the center's support of the Huntington's Disease Society of America's mission and all that it does to provide exemplary care to families impacted by Huntington's disease."
The UC Davis Huntington's Disease clinic has been designated as one of 21 Huntington's Disease Centers of Excellence in the United States since 2001. There are three other centers of excellence in the western United States, at UCLA, UC San Diego and the University of Washington in Seattle, which is also a Level 1 center.
The UC Davis center provides multidisciplinary services to hundreds of families in Northern California, Oregon, Nevada and beyond. This new award was granted in recognition of continued excellence and for the first time allows a formal partnership with the multidisciplinary clinic at Kaiser Permanente in Sacramento.
"We are excited by the opportunity of the Level 1 designation to expand outreach to northern California's Huntington's disease families, in partnership with our colleagues at Kaiser," said Vicki Wheelock, professor in the Department of Neurology and director of the UC Davis Huntington's Disease Center of Excellence.
"This designation is very important to Huntington's disease patients and families in our region, and especially to members of the Northern California chapter of the Huntington's Disease Society of America, which works tirelessly to support the mission of our center," Wheelock said. "Inspired by the courage and compassion of these families, our mission is to provide access to expert care, education and research."
"This is a truly integrated clinic that combines medical and behavioral health care delivery," said Co-director Lorin Scher, clinical professor of psychiatry and behavioral sciences. "I am honored to be part of such a talented interdisciplinary team of providers, patients and family members."
The Level 1 designation comes with an additional resources, intended for its continuing operations and will now include treatment of Kaiser Permanente Huntington's disease patients. The center also is supported by the Joseph P. Roberson Foundation of Sacramento and the Charles and Margaret Pue Foundation of Los Altos, California. Together, these funds are used exclusively for salary support for members of the center's multidisciplinary team, which includes a nurse practitioner, psychiatrist, social worker, genetic counselor and physical therapist. Additional providers include a neuropsychologist, child neurologist and research coordinators. Team members also work together to conduct research into new treatments for individuals living with Huntington's disease.
For more information, visit http://medicalcenter.ucdavis.edu.