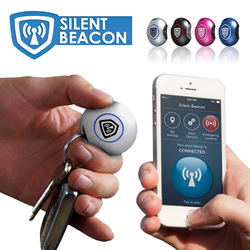 Germantown MD (PRWEB) March 02, 2015
Designed to provide immediate aid to those in need, the Silent Beacon app allows users to get in touch directly with emergency personnel, or loved ones. Using a list of pre-stored contacts the Silent Beacon app will send a mass text message, emails and push notifications in the event of an emergency with your live GPS position. Currently rated five stars, users today can now download the convenient app for free. This enables users become familiar with the app before the lifesaving device is released this April at https://itunes.apple.com/us/app/silent-beacon/id933730960?ls=1&mt=8
Aruna Miller of Maryland's House of Delegates believes that the app is "innovative … and much needed." She goes on to comment: "It is impressive that … through crowd-sourcing, [Silent Beacon is] privately raising … funds for mass production." To date, Silent Beacon's Indiegogo campaign has raised more than $70,000 in preorders.
CEO and founder Kenneth Kelley knows, first-hand, the importance of being able to contact loved ones in the event of an emergency. When a car struck and totaled Kelley's vehicle, his Smartphone's screen was shattered, preventing him from calling for emergency assistance. At the time, the Silent Beacon was still in the research and development stages, but at the moment of the accident, Kelley realized, "This is exactly why we need a wearable device to help people in emergency situations, this is why the world needs the Silent Beacon."
In addition to assisting victims of car accidents, the Silent Beacon can benefit the elderly, those with medical conditions, and children – along with anyone else who wants the peace of mind the Silent Beacon has to offer. With violent crimes occurring every 26 seconds and accidents occurring every 16 minutes in the U.S., Kelley is convinced the Silent Beacon will save lives and serve as a deterrent to those who may wish to harm others.
Between the free app and the $59.99 (pre-order special price tag) for the soon-to-be-released device, the company strives to keep its product line both affordable and accessible to a large number of consumers. Best of all, the app can still function independently, so users can begin enjoying the benefits of the Silent Beacon app today.
To learn more, visit http://www.silentbeacon.com. Or contact press(at)silentbeacon(dot)com Or by phone 1-240-462-5000
About Silent Beacon (http://www.silentbeacon.com): Silent Beacon is a Germantown, Maryland-based company that was established in 2013, with the vision of providing fast, reliable emergency assistance to those in need.
###