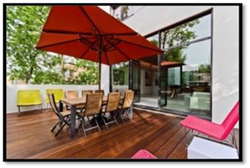 Gainesville, GA (PRWEB) February 27, 2015
Websites have become a staple in our society. From researching products to buying online, the internet is a vital part of the purchasing process. Websites are not only important to buyers but also to our culture as an integral part of the marketing and sales strategy of almost all businesses. Rockwood Timber Group's goal for its website was to enhance an online presence with a modern and unique website that better serves the customer.
Customers can easily access Rockwood's website to find information about innovative thermally treated lumber products, such as, decking, siding, and porch flooring. With this site, users will be able to research the process of thermally treated wood and learn about its variety of uses. No matter where you are in your buying process, Rockwood's website will have an answer for you.
Discover more about Rockwood's thermally modified lumber by visiting the website today at http://www.RockwoodTimberGroup.com. If you have any questions regarding Rockwood Timber Group's many products, you can contact them directly through the website contact page or call 1-844-PETRIFY (738-7349) to speak with a sales representative.
About Rockwood Timber Group
Headquartered in Gainesville, Georgia, Rockwood Timber Group is a leading source for thermally-treated American hardwood and European softwoods. Rockwood's products range from imported thermally-treated softwoods from an International manufacturer to harvesting and cooking domestically thermally-treated American hardwoods using a patented process. Rockwood thermo-treated lumber can be used in a variety of projects and applications, such as, decking surfaces and exterior wood paneling for homes. For more information about Rockwood Timber Group, visit http://www.RockwoodTimberGroup.com.