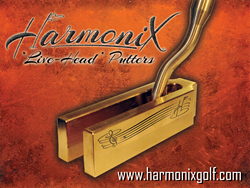 If you've never heard of Harmonix Live-Head Putters before, listen to this, tingmmmmmmmmmmmmmmmmm…plunk© …!
Vancouver, Canada (PRWEB) February 27, 2015
If you've never heard of Harmonix Live-Head Putters before, listen to this, tingmmmmmmmmmmmmmmmmm…plunk© …!
The unique designs have several Patents Pending and are unlike any other putters ever presented to the world of Golf according to the inventor, Dorn Beattie.
"As a musician and average golfer, I learned very quickly that your Putter is the single most important component of your golf equipment, Beattie says, and calling it a 'club' seems to diminish the importance of the finesse required to use a Putter properly. The right loft, the right roll, the right weight, the right feel, all critical factors contributing to the majority of the strokes on your card. It's not about muscle! Putting is all about touch - feel - finesse. As a musician I believe a Putter must be more like an 'instrument' and less like a 'club.' The Harmonix© 'Live-Head' Putter achieves this beautifully! It IS a very fine 'golf' instrument indeed, Beattie states proudly, and each one is hand crafted in the same precise way that a fine musical instrument is made. The head of the putter is machined from a solid brass ingot. Unlike off-the-shelf, mass produced, cast putters, each Harmonix© 'Live' head is individually carved on a computer controlled milling machine to exacting tolerances to meet the very precise standards of the design. The unique Putter head shape is that of a tuning fork. When the Harmonix© 'Live Head' Putter is played properly, a beautiful musical tone is heard - not the dull tick of a typical dead-head putter. The beauty of the design continues through the hosel into the one-of-a-kind shaft. Beattie searches the world over for the same exotic hardwoods used in musical instrument making to create shafts that are absolutely gorgeous to look at and provide the owner with a feeling of individuality, pride and confidence that typical putters cannot deliver. We start with a hand selected section of exotic hardwood and hand-tool each shaft the same way that a Luthier would build the neck of a guitar or cello or other stringed instrument requiring beauty, precision and strength. It is sectioned, butterflied for grain pattern, laminated for strength then fitted with a metal truss rod. The head is then mechanically 'torqued' to the shaft, not glued. Each shaft is as strong and durable as it is beautiful. "I own a rare 1964 Martin acoustic guitar that was made the same way, says Beattie, and the neck is a straight and true now as when it was made. We make our Live~Head Putters the same way." "Each Harmonix© 'Live-Head' Putter is assembled according to its new owner's personal choices, Beattie says. Each new owner chooses the combination of woods for the shaft, the version and weight of live head, the 'patina' (color) of the brass and right, left or zero offset 'hosel.' New owners choose from components visually 'on-line' from existing inventory for faster assembly and shipment (what they see is what they get) or, may order special combinations as desired. Either way, the end result is a perfectly balanced, one-of-a-kind Putting Instrument that is absolutely gorgeous to look at and incredibly comfortable to play."
From the moment you hear the tingmmmmmmmmmmmmmmmmm…plunk© … you'll know!
Choosing the correct weight is unique too says Beattie. The 400 gram 'heavy metal' model plays a soothing 'A' note, the note that all modern music is tuned to. The 'C' note is a bit lighter at 364 grams and the 'D' note weighs in at 348 grams. Perfect Balance. Perfect harmony. Perfection in Functional Art!
Each Harmonix® 'Live-Head' Putter comes with a Certificate of Authenticity and detailed description of the woods and design chosen. Each has a unique serial number with the owners name engraved for the final personal touch of class if desired. A wonderful asset for the golfer who thought they had everything. The Harmonix© 'Live-Head' Putter comes packaged with a number of branded options. "Harmonix© 'Live-Head' Putter. A great addition to anyone's golf bag, Beattie smiles, Functional Art for the Discerning Golfer"
"We are in limited production now, ramping up for full service mid-March starting at $650.00USD, Beattie says, however the first 100 units will be a special 'Limited Edition' full finish design. These are available now on a first-come basis at $499.00USD."
For further information contact: sales(at)HarmonixGolf(dot)com
About Harmonix Golf
The Harmononix concept was inspired many years ago by Founder Dorn Beattie in a game with his Father, the late William H. Beattie. Dad was a wonderful golfer and loved the game until he passed away. Even in his last days there was a 19th hole flag near his bed and his trusty Ping Anser Putter within easy reach. The Harmonix concept was chatted about on many occasions but life; and death, get in the way. In late 2014 I began building the first prototype in my shop while wearing the shop coat my Mother made for Dad. I honestly believe I am receiving divine guidance from my Father to follow through with the project. In early 2015, Patents were applied for, machined heads and hosels were underway and accumulation of exotic woods and construction of the beautiful shaft began. Website launched in early February. We are officially underway. In Memory of my Father I have created a Putting Contest that I know He would have enjoyed. The William H. Beattie Memorial Longest Putt Contest.
Thanks Dad, Your Loving Son, Dorn