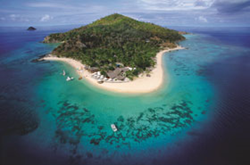 "The Castaway family of hosts are the secret to our achievement and our continued success. They are the cornerstone of our culture," said General Manager Steven Andrews.
Honolulu, HI (PRWEB) February 27, 2015
Idyllic Castaway Island Fiji has triumphed in both the AON Fiji Excellence in Tourism Awards and Readers' Choice Top 10 Awards announced by Holidays with Kids magazine (Australia).
The resort won four awards at the Excellence in Tourism Awards and was named Number One Family Resort in Fiji by Holidays with Kids magazine, Australia.
At the Excellence in Tourism Awards, Castaway Island Fiji won best deluxe accommodation. Its 1808 restaurant received the best fine dining accolade, its second consecutive win.
The island's Executive Chef Lance Seeto received the award for best back of house performance. Lingo Reece of Castaway Island and Eunice Molia of South Sea Cruises shared the award for the best front of house performance.
Castaway Island Fiji General Manager Steven Andrews said he was both proud and humbled by the recognition.
"The Castaway family of hosts are the secret to our achievement and our continued success. They are the cornerstone of our culture. Their commitment to providing the best quality service and memorable holiday experiences to our guests has been fittingly rewarded," he said.
Australian born Executive Chef Lance Seeto said winning two awards for culinary excellence vindicated his philosophy that the local produce, culture, history and flavours could match or exceed the best the world has to offer.
With soft white sand replacing polished floorboards, the stars and moon replacing the chandeliers, and cooling tropical winds in place of air conditioning, 1808 is a barefoot, tactile experience that diners can see, feel, hear, smell and taste.
"I am also humbled by my personal award for back of house in recognition of the activities and programs that extend beyond my kitchen that benefit our guests," he said.
In naming Castaway Island the number one resort in Fiji, Holidays with Kids said the privacy of the island seemed to have enchanted many Holidays with Kids families.
"Guests here are wrapped up by the warmth of the local staff members, supremely comfortable in air-conditioned accommodation (its Family Beach Bure is right upon the sand and sleeps up to 10) and endlessly engaged by water sports, a kids' club that is intentionally 'unplugged', and myriad other island joys," the magazine said.
For the latest seasonal packages or further information visit castawayfiji.com, outrigger.com or contact your local travel specialist.
About Outrigger Enterprises Group
Outrigger Enterprises Group is one of the largest and fastest growing privately-held leisure lodging, retail and hospitality companies operating in the Asia-Pacific, Oceania and Indian Ocean regions. As part of its unique hospitality offering, the values-based company extends exceptional hospitality and authentic cultural experiences, incorporating local traditions and customs into the guest experience at each of its properties worldwide. Guided by more than 67 years of family leadership, Outrigger runs a highly-successful, multi-branded portfolio of hotels, condominiums and vacation resort properties, including Outrigger® Resorts, OHANA® Hotels and Resorts, Embassy Suites®, Holiday Inn®, Best Western®, Wyndham Vacation Ownership® and Hilton Grand VacationsTM. Currently, Outrigger operates and/or has under development 45 properties with approximately 11,000 rooms located in Hawaii; Australia; Guam; Fiji; Thailand; Mauritius, Maldives, Vietnam; and Hainan Island, China. For online information, log on at http://www.outriggerenterprisesgroup.com and http://www.outrigger.com.
Join Outrigger's social network to Find Out. Find Outrigger! Follow @OutriggerResort on Twitter or become a fan on Facebook at http://www.facebook.com/OutriggerResorts. For ongoing news, visit http://news.outrigger.com.