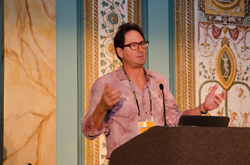 We're excited to have Evan return as a speaker on the Affiliate Summit faculty, his sessions have been very popular and received high praise in the audience feedback. - Shawn Collins
Fort Lauderdale, FL (PRWEB) February 27, 2015
The Affiliate Summit West 2015 conference was the largest Affiliate Summit event to date, with approximately 6,000 attendees, which took place from January 18-20, 2015 in Las Vegas. The conference has compiled a list of the top 10 sessions from Affiliate Summit West 2015, based on the number of people in the audience at the midpoint of the session. Evan Weber's session on the most effective digital marketing strategies was the most attended session of the entire conference.
These were the top attended sessions at Affiliate Summit West:
1. 20 of the Most Effective Strategies in Digital Marketing
2. Driving Massive Traffic for Sales & Lead Generation
3. A Step-by-Step Plan to Earn $100 a Day in Passive Income
4. Pro Email Marketing Tips (Non Bulk Email)
5. Full Review of a $2000/day Facebook Campaign
6. Finding a Perfect Fit: Selecting The Best Affiliate Program
7. How to Leverage Display Advertising Tactics for Success
8. Putting the Brand First, De-Coupling Services & Technology
9. 55 Must-Haves in Every Affiliate Manager's Toolbox
10. Monetizaton is Not "Selling Out": Bloggers & Affiliate Mktg
About Affiliate Summit: Affiliate Summit, the premier affiliate marketing conference, was founded by Missy Ward and Shawn Collins in 2003 for the purpose of providing educational sessions on the latest industry issues and fostering a productive networking environment for affiliate marketers. The conference has grown into a huge show, packed with great speakers and excellent networking opportunities.
About Evan Weber: Evan is a season digital marketing entrepreneur with over 15 years of online marketing and ecommerce background. He has been part of several successful Internet marketing companies, and currently runs his agency Experience Advertising, helping companies of all sizes grow their traffic, sales, and profits through digital marketing, social media, and affiliate marketing.
If you missed the Affiliate Summit West 2015, you can purchase a virtual pass here.