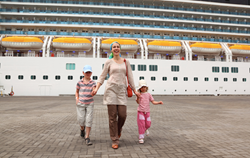 Discerning travellers want a personalized shore excursion they play an active role in designing. We facilitate that.
Vancouver, BC (PRWEB) March 03, 2015
ToursByLocals.com– the world's largest travel booking site for private tours – has just made life easier for the thousands of cruise ship passengers whose idea of a vacation isn't being stuck on a bus with dozens of strangers at every port of call.
The alternative – hiring a private guide for a "go at your own pace" day of customized exploring – has become an increasingly popular choice, especially among travellers who have "been there, done that" with the cruise lines' large group shore excursions.
ToursByLocals' new Shore Excursion Platform allows travellers to enter their cruise line, ship name and date of sailing, then presents them with private tour options for each of their ports of call. Every tour is customizable, includes transportation by private vehicle and is led by a ToursByLocals guide. Each tour also comes with a "no one left behind" guarantee that sees every traveller returned to the ship safely and on time.
"We've been popular with experienced cruisers since our inception," says company Communications Director Sara Cooke, "These are discerning travellers who understand what a time-saving and rich experience a private guide offers at their ports of call. In order to cater to that audience, we've now made it easy for them to cross-search our database of shore excursions with their particular cruise."
Paul Melhus, ToursByLocals President, agrees: "As engaged travellers, our customers don't want to be told when they can get off the bus, how long they can stop and where they can eat; they want a personalised experience they play an active role in designing. We facilitate that."
But what about cost? With a group as small as three people, hiring a ToursByLocals guide for a private shore excursion costs about the same per person as buying three spots on a ship's standard group tour. If a fourth person comes along (the average size of most of the company's private tours) it costs less.
This value has not been lost on travellers: since 2009, over a quarter million people have taken private tours with ToursByLocals. With the introduction of the Shore Excursion Platform for easy searching, the company expects this number to grow even faster in 2015.
_______________________
Founded by Canadians Paul Melhus and Dave Vincent in November 2008, ToursByLocals connects travelers with independent local guides in 133 countries worldwide. ToursByLocals guides offer private city tours, shore excursions, art and history-focused tours, culinary tours and outdoor adventures on six continents. Every tour is private and itineraries are flexible and customizable to the traveler's needs.
Since its inception, ToursByLocals has served over 265,000 travellers. With over 1600 experienced guides in large and small cities, ports of call and remote destinations, travelers can always find a local expert to meet their needs, whether they're traveling to St. Petersburg, Dubai, Rio de Janeiro or anywhere in between.