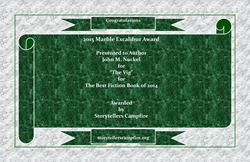 The sound of men filling a hole.
NY,NY (PRWEB) March 01, 2015
Storytellers is proud present the Excalibur Award for fiction to John M Nuckel. Mr. Nuckel's novel, The Vig, is this years winner for excellence in literary fiction.
The Vig is the story about the seamy side of Wall Street rarely seen by the public. Deals are made on a bar stool not in a boardroom. They're sealed with a handshake and broken with a fist.
Mr. Nuckel is a true Wall Street insider. A former trading floor broker, equity option specialist and managing partner in a risk arbitrage firm. He's known hedge fund managers and wise guys and the simple truth is, there isn't much difference between them. The two may never cross paths but they cling to the same truth: the money is made in The Vig.
Visit him at johnnuckelauthor.com