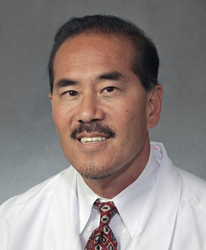 With his compelling background of success stories in hip arthroscopy, Dr. Matsuda is ideally positioned to lead this area of growth for us.
Marina del Rey, CA (PRWEB) March 02, 2015
DISC Sports & Spine Center (DISC) has partnered with world-renowned hip specialist Dr. Dean K. Matsuda to launch and direct its new Hip Arthroscopy Center of Excellence. A board-certified orthopedic surgeon dedicated to the advancement of procedures, tools and research, Dr. Matsuda joins DISC today, and will immediately expand the options available to patients seeking innovative, minimally invasive solutions to their hip injuries. The announcement was made by DISC founder, Dr. Robert S. Bray, Jr.
"With his compelling background of success stories in hip arthroscopy, Dr. Matsuda is ideally positioned to lead this area of growth for us," said Dr. Bray. "His recruitment reaffirms DISC's commitment to advance the role of minimally invasive surgery into new areas, giving us the ability to serve more complex, high-acuity cases."
"DISC's desire to build and support a fully-dedicated center of excellence for hip arthroscopy is very exciting to me," said Dr. Matsuda. "As a former athlete myself, I have seen both sides of the scalpel, and it has been my career-long goal to further this area of sports medicine into new levels of patient care."
Dr. Matsuda, who serves as chairman of the Sports Medicine and Arthroscopy program committee for the American Academy of Orthopaedic Surgeons, comes to DISC after 26 years at Kaiser West Los Angeles Medical Center, where he developed the sports medicine program. During that time, he was the chief of orthopedics, the director of sports medicine, and was honored as the very first surgeon of any field to receive the Distinction Merit Award for Surgical Excellence and Innovation.
A true pioneer in his field, Dr. Matsuda has invented several innovative surgeries that have greatly improved treatment options for hip injuries in athletes and active patients. Examples include an endoscopic treatment for osteitis pubis, a new type of labral reconstruction, and the first surgeries for femoral head fracture fixation using completely arthroscopic techniques. Dr. Matsuda developed techniques addressing even extreme deformities of a common condition called femoroacetabular impingement or FAI, enabling him to successfully perform outpatient arthroscopic surgeries on patients that were told they required open procedures. He has also invented several important surgical instruments to improve patient outcomes from hip arthroscopy.
Dr. Matsuda is a frequent national and international lecturer whose published works include numerous teaching videos, journal and clinical research articles and book chapters, and he reviews for some of the top sports medicine journals. He graduated summa cum laude from the University of California in Irvine, went to medical school at University of California in Davis (graduating with Alpha Omega Alpha honors), and completed residency at Harbor-UCLA Medical Center.
Dr. Matsuda is a former football running back whose passion for sports keeps him connected to his athletic patients. Access his full bio and CV HERE: http://discmdgroup.com/physicians/dean-matsuda/
About DISC Sports & Spine Center
DISC Sports & Spine Center (DISC) is California's premier medical group providing the full scope of spinal care, orthopedics, pain management and conservative treatments. DISC has set a new standard for high-acuity, minimally invasive spine surgery and arthroscopy in an outpatient setting, both safely and on a more cost-effective basis. In partnership with Surgical Care Affiliates (SCA), one of the nation's leading surgical care companies, DISC operates state-of-the-art outpatient surgery centers in Marina Del Rey and Newport Beach. Both centers are accredited by the AAAHC, have a zero MRSA infection rate and are conveniently located next to major freeways and airports. DISC, which accepts most major insurance plans, is also the official medical services provider for Red Bull and a proud partner of the LA Kings. For more information, contact 866-481-DISC, or visit http://discmdgroup.com.