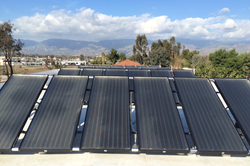 With the new solar systems designed by Promise Energy, our community will reap the benefits of clean, affordable energy for years to come.
San Bernardino, CA (PRWEB) February 28, 2015
Located 30 miles west of the San Bernardino National Forest stands a 40-unit affordable housing project recently upgraded with solar water heating and solar photovoltaic systems by Los Angeles based solar company Promise Energy. Originally owned by Goodwill Industries of Southern California, the building was sold to Century Housing in 2013, to provide permanent supportive housing for families with disabilities.
"With the new solar systems designed by Promise Energy, our community will reap the benefits of clean, affordable energy for years to come," said Brian D'Andrea, Senior VP of Housing at Century. "Installing solar is a true win-win situation for reducing operating expenses and contributing to cleaner air and cheaper energy."
The project features two kinds of rooftop solar systems – one that increases energy efficiency by reducing the amount of fossil fuels required to heat water, and one that provides clean electricity with solar photovoltaics.
The solar water heating system is projected to reduce the building's natural gas consumption by a stunning 85%. The system features 24 roof-mounted collectors that preheat water for the building's boilers, reducing the need to burn natural gas. The system includes 4 aluminum-clad, insulated tanks that store the preheated water at temperatures of 100 degrees or more, providing the building with solar hot water 24 hours a day. This highly efficient system will offset nearly 3,000 therms of natural gas annually, equivalent to the CO2 emissions from burning 17,000 pounds of coal a year.
The solar electric system features 117 three-hundred watt photovoltaic panels spread across a flat roof overlooking the San Bernardino basin. This 35-kilowatt system will produce an estimated 56,676 kilowatt hours of clean electricity each year, saving the project over $10,000 in annual electric bills every year for the next 25 years or more.
"We are proud to work together with organizations like Century Housing to help promote sustainability and energy efficiency for the affordable housing industry," says Adam Boucher, CEO of Promise Energy. "Installing solar on low-income housing developments ensures that the people who need it most are getting the economic benefits of clean renewable energy."
"Solar and energy efficiency are becoming increasingly popular for building retrofit projects like Arrowhead Vista," says Andy Mannle, VP of Strategic Development at Promise Energy. "With partners like Century Housing, we're working to help California achieve the goal of doubling the efficiency of existing buildings to reduce energy bills, create jobs, and combat climate change."
About Promise Energy:
Promise Energy Inc, is a full-service solar solutions provider, delivering integrated financing, design and installation for multifamily and commercial projects throughout California and the Western United States. Promise Energy partners with building owners and residents to save energy, and reduce operating expenses with solar water heating and solar photovoltaics. The company is currently working on solar for over 4000 units of affordable housing across Southern California, as well as other market-rate and commercial projects. To find out more, contact us at http://www.promiseenergy.com.