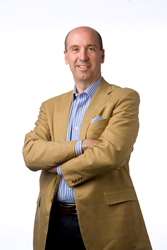 No one can predict the future. But it can be prepared for, and that is the cornerstone of my work.
New York, NY (PRWEB) March 03, 2015
Futurist Jack Uldrich says, "Half of the predictions about the future are wrong; the trouble is people don't know which half. This might seem like an odd statement coming from a futurist, but the point is that no one can predict the future. The future can and should be prepared for, and that is the cornerstone of my work."
This March, Uldrich is crossing the country speaking on topics such as The Internet of Things, How to Future-Proof Your Business, and Unlearning. His lineup of keynote engagements currently includes:
March 04: Canola Council of Canada • Banff, Canada
March 05: Farm Credit Bank of Texas • Charleston, SC
March 06: Indiana Farm Bureau • Indianapolis, IN
March 09: CICA 2015 International Conference Captive Insurance • Orlando, FL
March 12: National Fluid Power Association • San Diego, CA
March 19: Cleveland Community College • Cleveland, OH
March 24: Siemens PLM Software • Scottsdale, AZ
March 26: Private Pharmacueticals Company • New York, NY
March 30: International Card Manufacturers Association • Phoenix, AZ
Uldrich is a renowned global futurist, independent scholar, sought-after business speaker, and best-selling author whose works include: "The Next Big Thing is Really Small," "Higher Unlearning: 39 Post-Requisite Lessons for Achieving a Successful Future" and "Foresight 2020: A Futurist Explores the Trends Transforming Tomorrow."
His other written works have appeared in The Wall Street Journal, BusinessWeek, Forbes,The Futurist, Future Quarterly Research, The Wall Street Reporter, Leader to Leader, Management Quarterly, and hundreds of other newspapers and publications around the country. A frequent guest of the media, Uldrich has appeared on CNN, MSNBC, National Public Radio, and as a guest commentator on "Futurescape" hosted by James Woods.
Parties interested in learning more about Jack Uldrich, his books, his daily blog or his speaking availability are encouraged to visit his website. Media wishing to know more about future events and those interested in interviewing Jack can contact Amy Tomczyk at (651) 343.0660.