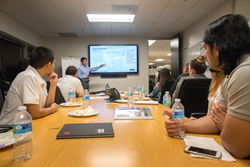 ... HNTB's aviation professionals are committed to bringing their valuable and relevant project expertise to university students who plan to pursue aviation careers
LOS ANGELES (PRWEB) March 02, 2015
HNTB aviation professionals recently delivered a guest lecture as part of the Airport Planning course for California State University, Los Angeles. The session was held at HNTB's new office near Los Angeles International Airport.
Supplementing the airport planning curriculum developed and presented by adjunct professor Joshua Wussick, HNTB guest lecturers Justin Bychek, PE, Jean-Christophe Dick, Tony Fermelia, PE, and James Long, PE, referenced notable airport planning topics, projects and case studies covering the following topics:

Airport layout plans
Runway safety area improvements
Airfield geometry study at Long Beach Airport
Aircraft gate parking
"We appreciate the willingness of industry partners like HNTB to serve as guest lecturers and provide our students with real-world experiences," said Keith Mew, Ph.D., CM, professor and department chair, CSULA Department of Technology. "Guest lectures from aviation professionals enhance the learning environment and provide our students with unique insights, understanding and perspectives."
Offered by the College of Engineering, Computer Science, and Technology, the course covers concepts of airport planning and construction; community surveys related to social, economic and physical characteristics; political influences and phases of airport construction. The course is part of the Bachelor of Science aviation administration degree program offered at CSULA for college freshmen and transfer students.
"With a long history of delivering a wide range of airside and landside services and projects — including terminals, runways, advanced financial services and airport planning — to the largest airports in the United States, HNTB's aviation professionals are committed to bringing their valuable and relevant project expertise to university students who plan to pursue aviation careers," said Peter Aarons, HNTB West Division aviation director and associate vice president.
"Aviation engineering and planning is experiencing a tremendous need for talented professionals," said Bychek. "It's our pleasure to share with these students the passion we have for this exciting industry. This was a great way to demonstrate what we do and how we do it in an office setting rather than a typical classroom."
HNTB was recently ranked as the No. 1 airport design firm in Roads & Bridges magazine's 2014 Go-To List, as preferred by the publication's readers. The firm's many signature aviation projects include design of the "Green Build" expansion at San Diego International Airport; engineering and design services at Los Angeles World Airports; design and construction management of runway status lights implementation at airports across the country; and design of the runway expansion at Fort Lauderdale-Hollywood International Airport.
About HNTB
HNTB Corporation is an employee-owned infrastructure solutions firm serving public and private owners and contractors. HNTB's work in California dates back to its founding in 1914. Today HNTB continues to grow in size and service offerings to clients in California from seven office locations, currently employing more than 350 full-time professionals. With more than a century of service, HNTB understands the life cycle of infrastructure and addresses clients' most complex technical, financial and operational challenges. Professionals nationwide deliver a full range of infrastructure-related services, including award-winning planning, design, program management and construction management. For more information, visit http://www.hntb.com.