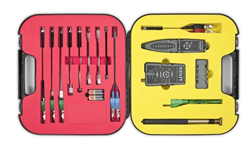 Our goal was to create a tone and probe kit that would reliably and easily trace shielded cabling and have advanced continuity features. After many revisions that is just what we have done." - Tony Casazza, co-creator
Beachwood, NJ (PRWEB) March 02, 2015
LANshack.com - an online distributor and manufacturer of high quality datacom products, such as copper cabling hardware, fiber optic cable assemblies, tools and testers - launches the new Ground Blaster™ Tone and Probe Tracing and Diagnostic Kit.
The Ground Blaster™ Tone and Probe Tracing and Diagnostic Kit recently hit the market in early 2015, a new product constructed as a brainchild between QuickTreX Tools (a LANshack.com line) and AINES a datacom manufacturing corporation. The goal of the unit is to provide technicians working on voice, security, data and video networks a tool to trace shielded cabling, a feat that has fallen short on other units currently on the market. The unit is aptly named Ground Blaster™ due to the functionally of the tone and probe which connects to a ground to boost the signal.
"No other tone and probe kits on the market can reliably trace shielded cabling," said co-creator Tony Casazza. "This product was a joint venture between our team at LANshack and the engineers at AINES and involved four years of development. Our goal was to create a tone and probe kit that would reliably and easily trace shielded cabling and have advanced continuity features. After many revisions that is just what we have done," he commented.
The proprietary feature on this new Ground Blaster™ unit is the technology of tracing a cable and utilizing a ground as the return path. "It is extremely difficult to trace any shielded cabling with the other units on the market since the tone that they produce virtually cannot penetrate the shield of the cabling. Previously you had to take the tip of the probe unit and insert it in each unused port on the patch panel. If that port was occupied by a patch cable then you would not be able to identify it at all. Now, with this unit you can just pick up the tone from the outside of the shielded cable," said Casazza.
The Ground Blaster™ technology works to amplify the signal so that even overhead and buried cables can be easily traced, and the unit comes with an extension wand specifically for this purpose. The wand extends 37" making it easier to trace overhead cables that would have otherwise needed a ladder, and also eliminates the need to crawl on the floor for cables buried under ground.
In addition, the Ground Blaster™ units have enhanced comprehensive continuity capabilities. It has modes for both closed and open circuits, and has a "latching" feature that when utilized allows the user to be away from the unit to see if a continuity or loss of continuity has taken place. The continuity report can then be selected by the user for either a visual report, audible report, or both. The units can also perform 4 pair cable testing to assure complete and proper wiring of the cable drop
"Shielded (STP) cabling is becoming very popular these days due to its ability to reliably carry faster data speeds. Any technician working in the field today would surely run into a situation where they have to trace shielded cabling. The kit would pay for itself on its first use for tracing shielded cabling," concluded Casazza.
The Ground Blaster™ Tone and Probe Tracing and Diagnostic Kit can be purchased from LANshack.com. For further information contact Andrea Damiano at 888-568-1230 x 1001 or at andrea(at)lanshack(dot)com.