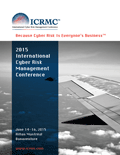 "Who you know is as important as what you know. Across the globe, organizations of all sizes are grappling with questions on how to mitigate, manage, and transfer cyber risk. Waiting on the sidelines is too costly a strategy," Ray Boisvert, ICRMC Emcee
Toronto, Canada (PRWEB) March 03, 2015
As dependency and integration of technology has permeated virtually every facet of business and life, cyber risks have escalated to unprecedented levels. Recent high‐profile cyber‐attacks underscore a seismic shift where no organization, sector, individual, or regional jurisdiction is immune to the growing threat. The International Cyber Risk Management Conference (ICRMC), scheduled for June 14 to 16, in Montreal, Quebec, brings together a world class roster of experts with cross‐sector, global and multi‐disciplinary expertise to share knowledge, learn together and tackle this ever‐complex issue.
"We are delighted to have assembled such a stellar cast of speakers that truly bring timely, global and cross‐sector perspectives to cyber risk management, a body of knowledge that the traditional risk management community has to quickly come to grips with. The level of interest and support from the global community for this conference reinforces the critical fact that cyber risk management is everyone's business and best practices need to take a multi‐disciplinary approach," says Joel Baker, President and CEO of MSA Research Inc., and host of the conference.
"As the pace of the cyber threat escalates and with insurance just putting its toes into the cyber risk waters, there are more questions than answers. Yet there is an emerging collective of wisdom and valuable lessons to be shared amongst industries, policy makers, and disciplines." says Ray Boisvert, ICRMC Emcee and Senior Associate at Hill + Knowlton. Mr. Boisvert was formerly an Assistant Director at Canadian Security Intelligence Service (CSIS) – Canada's CIA.
Keynote Speakers include:
Jason Healey, Director of the Cyber Statecraft Initiative of the Atlantic Council
Jim Routh, Chief Information Security Officer, Aetna
Sessions include:
Regulatory Perspectives on a Global Threat
The Threat Horizon
Embedding Cyber into Enterprise Risk
Cyber Risk Management Approaches for SME's
Risk Transfer Solutions – Dispelling the Myths, Bridging the Gaps and Creating Value
Crossing the Rubicon: North American and European Legal Developments
Cyber‐Security – Engaging with the Board
Taking Risks to Manage Risks: Portfolio Management for Information Security
See the full schedule and registration information at http://www.icrmc.com