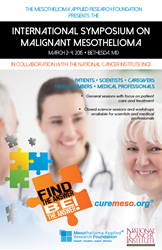 Bethesda, MD (PRWEB) February 27, 2015
On March 2-4, the Mesothelioma Applied Research Foundation (Meso Foundation) and the National Cancer Institute (NCI) will co-host the annual International Symposium on Malignant Mesothelioma at the National Institutes of Health (NIH), in Bethesda, Maryland. The event comprises two parts: one part is dedicated to medical professionals and scientists who specialize in mesothelioma, while the other is directed to the general public, including patients, their families, and caregivers.
The conference begins on Monday, March 2 with science and general sessions. Monday night includes an Awards Dinner honoring community members who have contributed in meaningful ways in the fight against mesothelioma.
Mesothelioma is a malignant tumor of the lining of the lung, abdomen, or heart known to be caused by exposure to asbestos. With the life expectancy of less than one year after diagnosis, medical experts consider it one of the most aggressive and deadly of all cancers. An estimated one-third of those who develop mesothelioma were exposed while serving in the Navy or working in shipyards. Currently, few treatment options exist. There is no cure.
Registration for the Symposium is now open at curemeso.org/symposium, where attendees can also book their hotel rooms. A general schedule, a list of speakers, and further information about the conference can also be found on this page.
On Tuesday, March 3, scientific and general sessions will cover the following topics:
Christian Ottensmeier, University of Southampton, UK
How our immune system interacts with mesothelioma cells is an important question researched in Dr. Ottensmeier's work. By analyzing biospecimen from patients, this work searches for clues in the immune system that can be used to predict outcomes of therapy or to design novel therapeutics.
Tao Dao, MD, PhD, Memorial Sloan-Kettering Cancer Center, NY
Evading immunity is one of the most important survival mechanisms for mesothelioma cells. Dr. Dao studies development of antibodies that can induce the immune system to attack mesothelioma cells. Such empowerment of the immune system can result in robust anti-tumoral effects against mesothelioma.
Faris Farassati, PhD, PharmD, The University of Kansas, KS
Dr. Farassati's work pursues the development of a novel class of viruses that are capable of targeting mesothelioma cells while leaving normal cells untouched. A new generation of these viruses developed in Dr. Farassati's lab attack stem cells within the tumor or "cancer stem cells" as a novel strategy against mesothelioma.
Marc De Perrot, MD, University Health Network, Toronto, Canada
Radiation therapy is one of the approaches used against mesothelioma with limited success. Dr. De Perrot's research focuses on enhancing the effects of radiation therapy by studying the role of the immune system in this scenario. The hope is that this research will result in enhanced effectiveness of radiation therapy.
More information about the event is available at http://www.curemeso.org/symposium.
ABOUT THE MESOTHELIOMA APPLIED RESEARCH FOUNDATION
The Meso Foundation is the only 501(c)(3) nonprofit organization dedicated to eradicating mesothelioma and easing the suffering caused by this cancer. The Meso Foundation actively seeks philanthropic support to fund mesothelioma research; provide patient support services and education; and advocate Congress for increased federal funding for mesothelioma research. The Meso Foundation is the only non-government funder of peer-reviewed scientific research to develop life-saving treatments for this extremely aggressive cancer. To date, the Foundation has awarded over $9 million to research. More information is available at http://www.curemeso.org.
###