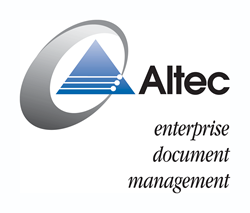 Altec has made it very easy for us to not only align our clients with doc-link but also put BPW in the best position possible for implementation and support of our clients with doc-link.
Laguna Hills, CA (PRWEB) February 27, 2015
Altec Products, Inc., announced today that Bartlett, Pringle & Wolf, LLP (BPW) has been chosen as their doc-link for Dynamics Partner of the Year. BPW provides Microsoft Dynamics GP, CRM and other complimentary solutions for their customers in all different industries with a specific expertise in working with credit unions. Altec and BPW have worked side-by-side to successfully help clients implement paperless processes leveraging doc-link's integration to Dynamics GP.
"We are so impressed by the success that BPW has had over this past year," said Mark Ford, Altec CEO. "They devoted their time and resources into becoming doc-link experts to better serve their clients. Because of all their hard work, they are truly able to assess and anticipate the needs of their clients to help them improve the way they run their business."
Altec's Partner of the Year recipient was determined based on sales volume for 2014 along with the number of clients the partner organization helped go paperless with doc-link over the full year.
BPW serves a diverse client base with many of the clients that purchased doc-link in the last year coming from the Credit Union industry. "The Business Solutions Team at BPW has such loyal customers because of all the time they've put into understanding their customers' needs," said Richard Simmons, Sales Director at Altec. "They've earned their reputation as the credit union experts and now are also becoming the go-to partner for document management as well."
BPW recently added a document management specialist to their headcount to be able to more effectively address their client requests. The addition of this team member has enabled the team to quickly become self-sufficient in demonstrating, selling and even implementing doc-link.
"Our team is very proud to have been named by Altec as their doc-link Dynamics Partner of the Year," said Stephen Korosy, Business Solutions Manager with BPW. "Our clients depend on BPW to bring them the best product solutions for their needs. When evaluating products with our clients, BPW looks for vendors who not only have the best solution but are also truly there to partner with us and our clients. Altec has gone to great lengths to ensure not only the partnership between BPW and Altec is seamless and strong but with our clients as well. Altec has made it very easy for us to not only align our clients with doc-link but also put BPW in the best position possible for implementation and support of our clients with doc-link."
About Altec
Altec is a leading provider of Integrated Document Management (IDM) solutions to mid-market companies. For more than 30 years, Altec has provided a wide range of accounting-centric paper to paperless solutions including its flagship product, doc-link, which enables companies to capture, archive, workflow and route structured and unstructured documents to customers, employees and vendors. Altec's comprehensive solutions include IDM, output management, MICR check disbursement and paper documents that serve more than 13,000 customers worldwide. Altec enjoys strong, collaborative partnerships with ERP solution providers like Microsoft Dynamics to provide the most comprehensive, integrated enterprise document management solution. Altec delivers its IDM solutions through a global network of authorized partners in more than 60 countries throughout the Americas, EMEA and Asia Pacific. Visit Altec at http://www.altec-inc.com or call April Blankenship at 1-800-997-9921.
About BPW
Having opened its doors in 1948 as an accounting firm Bartlett, Pringle & Wolf, LLP is the largest accounting and consulting firm on the Central Coast of California. Today, we are more than just an accounting firm. We understand that every business is different. BPW's advisors provide customized services that are designed to meet your well-understood individual and business needs.
Our accounting software consultancy has been dedicated to a wide variety of industries since the late 1980s and has worked with Credit Unions since 2002. BPW provides of a full range of support services for Microsoft Business Solutions and is excited to have added Altec's doc-link to our offerings. Our team's unique blend of accounting, computer and business backgrounds offers you a distinct exclusivity in professional expertise. For more information visit http://www.microsoftdynamicsgpforcreditunions.com or contact Stephen Korosy at (805) 690-3813 or skorosy(at)bpw.com
# # #