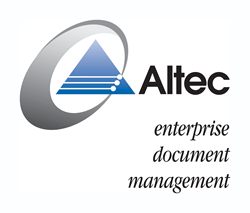 ADSS Global prides itself on offering best of breed applications to our customers and Altec's Document Management system is the product of choice for us to recommend.
Laguna Hills, CA (PRWEB) February 27, 2015
Altec Products, Inc., announced today that ADSS Global has been chosen as their Sage ERP Document Management Partner of the Year. ADSS Global provides Sage 100 ERP, Sage 300 ERP, Sage CRM and other complimentary solutions for their customers across the world. Altec and ADSS Global have worked side-by-side for many years to provide clients with paperless solutions that integrate seamlessly with their Sage ERP applications.
"We are thrilled to recognize ADSS Global for their expertise in providing Sage ERP Document Management," said Mark Ford, Altec CEO. "They truly understand their clients' needs and have the superior knowledge and years of experience necessary to help them improve their business processes."
Altec's Partner of the Year recipient was determined based on sales volume for 2014 along with the number of clients the partner organization helped go paperless with Sage ERP Document Management over the full year.
One client in the publishing industry that went paperless in 2014 remarked that they have already been able to eliminate five filing cabinets from their office and save on off-site storage fees with the help of ADSS Global and Altec. They also noticed their auditing process has been simplified and access to documents has been improved.
"ADSS Global prides itself on offering best of breed applications to our customers and Altec's Document Management system is the product of choice for us to recommend because of the quality, level of integration with SAGE, along with their excellent customer support," said Peter Kaufman, President of ADSS Global.
About Altec
Altec is a leading provider of Integrated Document Management (IDM) solutions to mid-market companies. For more than 30 years, Altec has provided a wide range of accounting-centric paper to paperless solutions including its flagship product, Sage ERP Document Management, which enables companies to capture, archive, workflow and route structured and unstructured documents to customers, employees and vendors. Altec's comprehensive solutions include IDM, output management, MICR check disbursement and paper documents that serve more than 13,000 customers worldwide. Altec enjoys strong, collaborative partnerships with ERP solution providers like Sage Software to provide the most comprehensive, integrated enterprise document management solution. Altec delivers its IDM solutions through a global network of authorized partners in more than 60 countries throughout the Americas, EMEA and Asia Pacific. Visit Altec at http://www.altec-inc.com or call April Blankenship at 1-800-997-9921.
About ADSS Global
Founded in 1981, ADSS Global has been successful in making information work in an efficient and profitable way for many companies and organizations. Advanced Dedicated Systems Support with a Global reach is what you will have with ADSS Global.
At ADSS Global, we offer support and training on Sage 300 ERP, Sage 100 ERP, Sage HRMS, Sage CRM, Sage Fixed Asset System, Sage Mobile Solutions, Sage Payment Services and End-To-End Business Solutions including eCommerce, Warehouse Management, Project & Job Costing, Point of Sale, Bar Coding and EDI.
ADSS Global is represented by a staff of CPA's, Network Engineers, Project Managers, and Developers all working together in a team approach. We can be your one source for End to End Business Solutions, Hardware, Software, Data and Voice Cabling, Internet Services, and Operating Systems.
# # #