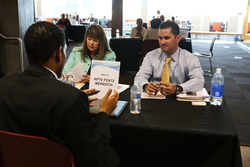 The Media Sales Institute offers world-class sales training and an outlet for media companies searching for top-tier candidates for entry-level sales positions. -- Cronkite Assistant Dean Mark Lodato
Phoenix (PRWEB) February 27, 2015
The National Association of Broadcasters Education Foundation and Arizona State University's Walter Cronkite School of Journalism and Mass Communication are accepting applications for an intensive 10-day media sales training program this summer for recent college graduates.
For the second year, the Cronkite School is hosting the NABEF's Media Sales Institute June 7-16. The residential program brings graduates of diverse backgrounds to the ASU Downtown Phoenix campus to prepare them for media sales careers in the broadcast industry.
The Media Sales Institute, supported by the GM Foundation and Gannett Foundation, provides sales training seminars as well as mentorship and networking opportunities with leading broadcast industry professionals. Up to 30 fellows will be accepted and receive NABEF Media Sales Certification as well as transportation, housing and meals at no cost.
The institute culminates with a job fair with more than 20 local and national media outlets. Last year, media companies included CBS Radio, Clear Channel, FOX, Meredith, NBC, Raycom Media, Scripps and Univision. Recent and soon-to-be college graduates must apply by March 15 at http://nabef.org/msi/registration.asp.
"The Media Sales Institute opens doors for highly motivated individuals," said NABEF President Marcellus Alexander. "We value our partnership with ASU and look forward to working together in preparing tomorrow's media sales professionals for successful careers in a rapidly evolving media landscape."
ASU is one of a few select institutions to host this event. Florida A&M University, Howard University and Ohio University are the other universities holding Media Sales Institutes in 2015.
According to Cronkite School Assistant Dean and News Director Mark Lodato, the institute provides the skills necessary to thrive in today's broadcast media jobs.
"The Media Sales Institute offers world-class sales training and an outlet for media companies searching for top-tier candidates for entry-level sales positions," said Lodato, who leads the program. "We are excited once again to partner with the NABEF, a leader in promoting diversity in our industry."
The National Association of Broadcasters Education Foundation is a nonprofit organization dedicated to reinforcing the future of broadcasting through a commitment to education and to advancing excellence in the diversity and community service efforts in broadcasting. In addition to the Media Sales Institute, the foundation offers a number of professional development programs, including the Broadcast Leadership Training Program and the Leadership Development Institute.
The Cronkite School is widely recognized as one of the nation's premier professional journalism programs. The school regularly offers summer programs that provide expert journalism training and instruction. The Reynolds High School Journalism Institute offers intensive two-week journalism training programs for secondary school teachers. The Cronkite Summer Journalism Institute gives high school students from underrepresented communities the opportunity to participate in digital reporting and broadcast journalism training sessions. During the summer, the Cronkite School also serves as a weeklong digital journalism training center for college students from across the country participating in the Dow Jones News Fund internships.