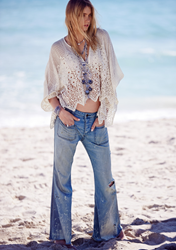 I am thrilled to open our 104th store in Sarasota while bringing our local fans a wider assortment of Intimately Free People.
(PRWEB) March 02, 2015
Specialty fashion brand, Free People, will bring its eclectic apparel to Sarasota's recently constructed and dominant shopping destination, The Mall at University Town Center, on March 20th, 2015. At 3,000 square-feet, Free People is thrilled to open its fifth store in the Florida area. This will be the brand's 104th store across the United States and Canada.
Currently, Free People operates two boutiques in Miami and one in Tampa. As local fans continue to increase their demand for the brand's coveted styles, Free People adds Jacksonville and Sarasota retail locations this March. Due to its growing popularity, Sarasota will carry an increased assortment of 'Intimately Free People,' the brand's line of intimates including bras, undies, slips, seamless layering pieces, and loungewear. The intimates shop will cover approximately 800 square-feet on the boutique's selling floor, one of the brand's largest retail offerings of the 'Intimately Free People' label.
"It has been exciting to watch the Free People brand grow in the Florida area," says Free People Director of Retail, Beth Wehagen. "I am thrilled to open our 104th store in Sarasota while bringing our local fans a wider assortment of Intimately Free People."
The new boutique will be designed in the brand's 'Boho Bungalow' concept, representing the globe traveling girl and the collections that she curates and displays in her space. The experience starts at the entry with large double doors surrounded by six inch white washed horizontal wooden slats with beautiful hand carved panels in the windows above. Inside the space, customers will be greeted by mica plaster, white washed wooden slat walls, and soft maple columns and beams that delineate the store's shopping destinations. Along the ceiling, leading up to the checkout, there will be a special soft maple canopy overhead. The overall palette is warm and inviting with two skylights flooding the store with natural light, and a special display moment along the walls that make up the Intimately Free People area.
At opening, The Mall at University Town Center boutique will carry a strong range of dresses and wovens showcasing flowy fabrics ideal for beach days. The boutique will carry special high-end dresses and bags hand-picked for the Sarasota customer. In outfitting, the brand's well-known wash trend of unique dyes, fades, and distressing techniques, will be represented across all classes. The assortment will be filled with clean and simple silhouettes with a strong focus on white hues. For those venturing to music festivals, all fashion needs will be covered, and to round out Free People wardrobes, the location will also carry a strong accessories assortment, including select sandals.
Each Free People store offers personalized shopping experiences from a team of expert stylists. Customers can schedule a one-on-one appointment with their favorite stylist, as well as interact and gain inspiration through the brand's online Style Community, FP Me. In addition to offering personal styling, Sarasota fans can look forward to a variety of in-store events to be hosted at the Free People University Town Center boutique throughout the year.
The boutique will celebrate on opening day, March 20th, from 6-8pm. The first 50 customers will receive a tote bag giveaway, light refreshments will be served, and store stylists will be on hand to give in-store styling sessions.
Free People will be located at The Mall at University Town Center, 140 University Town Center Drive, #246 Mall at University Town Center, Sarasota, FL 34243. Store hours will run Monday-Saturday 10am-9pm, and Sunday 11am-6pm. Fans should "like" the store on Facebook to stay up to date on all the latest arrivals, events, and other happenings: https://www.facebook.com/FreePeopleSarasota.
For more information, images, to request an interview, or to discuss a TV opportunity, please call Naomi Huober at 215-454-5808 or email nhuober(at)freepeople(dot)com.
###
About Free People
Free People is a specialty clothing brand featuring the latest trends and vintage collections for women who live free through fashion, art, music, and travel. The eclectic look consists of quality apparel, shoes, and accessories that invoke attributes of femininity, spirit, and creativity with its design. Free People is distributed globally via direct channels including the Free People Global site, the Free People UK site, and the Free People China site as well as specialty boutiques, top department stores, and the brand's free standing retail locations in the U.S. and Canada.
About The Mall at University Town Center (UTC)
The Mall at UTC opened Oct. 16, 2014. Located at I-75 and University Parkway, this world-class fashion and dining destination features approximately 880,000 square feet of retail space with Saks Fifth Avenue, Macy's, Dillard's and more than 100 specialty stores and restaurants. Showcasing many distinctive retailers not found anywhere else in the local market, the center offers visitors a diverse mix of upscale, fashion and lifestyle retailers, popular favorites, sit-down restaurants and a children's play area. Shopping hours are 10 a.m. to 9 p.m. Monday through Saturday, 11 a.m. to 6 p.m. Sunday. For holiday hours, information and updates, visit http://www.mallatutc.com. Like us on Facebook: http://www.facebook.com/MallatUTC.