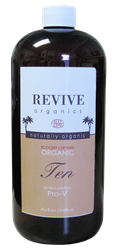 Ten, in meeting Ecocert's strict organic standard is America's first truly organic spray tan solution
St. Petersburg, Florida (PRWEB) March 01, 2015
Biddiscombe Sunless is introducing Revive Organics TEN, a certified organic spray tan solution at Natural Products Expo West 2015 . Ten, America's first and only certified organic spray tan solution has been reviewed and certified as Organic and Natural by Ecocert Greenlife, the French-based international organic certification program.
Revive Organics TEN utilizes a proprietary blend of ingredients to achieve both organic status and performance characteristics desired by discriminating spray tan professionals. Biddiscombe spokesman John Melville noted "The creation of a certified organic solution by Biddiscombe raises the bar within the sunless tanning community. Many companies have claimed they produce organic spray tan solution while using ingredients clearly prohibited under any organic standard. I believe that if a user wants something organic, their only certainty is to use a product that has an organic certification."
The new solution achieves a natural cosmetic color that develops nicely into the sunless glow tanners desire. TEN is 99.7% ingredients of natural origin and 85.9% organic. It is made in Biddiscombe's manufacturing facility in St. Petersburg FL that is certified as an organic under both the Ecocert and USDA National Organic Program. Melville commented further "For a product to achieve organic certification, the formulation itself must meet the rigorous requirements of the organic standard. Additionally, the product must be made in an organic certified facility. We achieve both with TEN".
Biddiscombe Labs, the manufacturing arm of Biddiscombe Sunless, has been making skin care products for 30 years. It pioneered sunless solutions when it began making spray tan solutions in 1998 and has brought many innovations to the sunless industry. It achieved organic certification for its production facility under the USDA program in 2007 and under Ecocert in 2011.