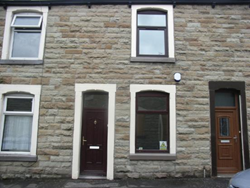 Very few lenders are offering buy-to-let mortgages for overseas investors and expats.
Lancashire, UK (PRWEB UK) 28 February 2015
Investors living overseas (include expats and foreign nationals) see the UK as secure country for long term investment with the aim of using rental income for children's UK education, their UK holidays or ultimately as a pension.
Find UK Property conducts regular surveys on such non-residents who are looking to buy or have purchased property in the UK. In a recent survey conducted in January 2015, overseas residents who were considering an investment property in the UK under £60,000 were asked how they would fund their purchase. Over 90% indicated that they would purchase using cash funds.
The main reasons for using cash funds over mortgages were as follows
-Difficult to get a non-resident buy-to-let mortgage – 60%
-High interest rates on non-resident mortgage -15%
-Difficult to get a mortgage on a low cost property -15%
Andy Noble, Senior Marketing Consultant at Find UK Property said "Many investors want to use cash funds as they want to generate an income rather than grow their investments. Very few lenders are offering buy-to-let mortgages for overseas investors and expats. Those that do offer such mortgages impose tough conditions, minimum property prices (normally over £100,000) and the interest rates are not attractive."
He added: "Many potential investors only have around £50,000 of funds to invest and in the absence of attractive funding, they decide to purchase a low cost property outright. Rather than keeping their money in the bank with very low interest rates or risking other forms of investment, such a property purchase earns them guaranteed rental income at 7% of property price plus long term capital growth"
About "Find UK Property"
Find UK Property are the 'buyers' agent and specialize in helping serious overseas buyers find the most suitable investment property for their needs. The company conducts regular surveys on overseas investors and findings are printed at their "UK Property News" Blog at http://blog.findukproperty.com.
The most popular purchase are the fully managed low cost houses in the price range of £55,000 to £70,000 that come with full management, repair guarantees, and guaranteed rent. Many clients are seasoned investors who may have purchased investment property in other countries via sister companies Openshore Property and Sandcastles based in Dubai. Further details can be found on the Find UK sales website at http://www.findukproperty.com