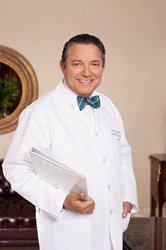 I think these conferences are an innovative way to meet with likeminded physicians in the field to discuss cutting edge techniques and technologies in cosmetic medicine
Northfield, IL (PRWEB) February 28, 2015
Board-certified cosmetic surgeon Dr. Anthony J. Geroulis has been invited to attend the 11th Annual Vegas Cosmetic Surgery & Aesthetic Dermatology conference at the Bellagio in Las Vegas, Nevada. The multi-specialty conference is the only time of the year where four separate specialties—plastic surgeons, facial plastic surgeons, oculoplastic surgeons and dermatologists— come together to achieve the best in aesthetic education. The annual conference will take place from June 11-14, 2015.
On Friday, June 12th, Dr. Geroulis will moderate the master seminars with Dr. Matthew Knight.
The series of lectures will cover a plethora of topics from upper and lower blepharoplasty, to debates on fat vs. filler and another on surgical rejuvenation techniques for the mid-face. As moderators, Dr. Geroulis and Dr. Knight will help to guide the series of lectures so that the attending surgeons can attain the maximum feedback and advice on each discussion topic.
At 3:30 pm on Friday, June 12th, Dr. Geroulis will lead a lecture entitled "Dealing with Jowls and Midline Neck Bands- Achieving a Defined Jawline and a Contoured Cervico- Mental Angle." The lecture, which will draw from research and patient experience, attests to Dr. Geroulis' skills and expertise in this field. The presentation will draw heavily on his successful use of the corset neck lift, also referred to as a corsetplasty, which is a very complex and precision driven facial cosmetic procedure performed at North Shore Center for Facial Plastic & Cosmetic Surgery.
On Saturday, June 14th at 5 pm, Dr. Geroulis will sit on a legal panel for the lecture "How to Safeguard Your Practice from the Vultures Overhead." The panel will cover a variety of real world topics from common HIPAA exposure and the truth about online ratings to what you need to know about Skype consultations and social media considerations and pitfalls. "I think these conferences are an innovative way to meet with likeminded physicians in the field to discuss cutting edge techniques and technologies in cosmetic medicine. However, I think it is very important not to overlook panel discussions such as these that cover situations and problems that physicians encounter on a daily basis," explains Dr. Geroulis.
For more information about Dr. Geroulis and his procedures at North Shore Center for Facial Plastic & Cosmetic Surgery in Illinois, please call (866) 875-3937 or visit http://www.geroulis.com.
About Dr. Anthony J. Geroulis:
Bringing over 33 years of surgical and artistic experience to the field of facial plastic & cosmetic surgery, Anthony J. Geroulis, MD, FICS, has repeatedly been named a "Top Doctor" by U.S. News & World Report. Board certified in cosmetic surgery, author and active sculptor, Dr. Anthony Geroulis is a clinical professor of surgery at University of Chicago Medicine. His medical office is headquartered in Northfield, with offices in Chicago, at University of Chicago Medicine and at St. Alexius Medical Center in Hoffman Estates.