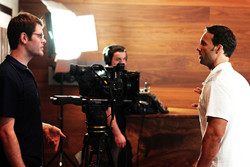 We've gotten pretty good at anticipating what visiting corporate clients might require
Chicago, IL. (PRWEB) February 28, 2015
Chicago based video production company Absolute Vision Media Productions is happy to announce the capacity to support corporate event and corporate video productions within the city of Chicago. As the largest city in the Midwest, Chicago has become a popular destination for a wide variety of conventions, corporate events, and meetings often attracting large crowds from out of state. Due to the nature of modern events—which often require videography, video conferencing, camera crew, and other audio-visual support—it can be difficult for those companies to find the help they need to put on a top-notch experience.
The modern conference or corporate event is not a simple undertaking. Finding an experienced media company in Chicago—familiar with the equipment requirements and logistical challenges—is easier now with Absolute Vision Media Productions renewed availability. Those seeking local Chicago video crews in the past have been looking for knowledge of video production, teleprompters, and other corporate event logistics, such as operating camera feeds and securing needed equipment. A simple video production at a conference can require serious coordination of audio and video elements.
"We've gotten pretty good at anticipating what visiting corporate clients might require," said Mark Smith, CEO and founder of Absolute Vision Media Productions. "We're able to source the needed crew and equipment for Chicago events, we we're able to make sure clients get what they want without a hitch. We figure there's enough going on, enough to worry about. We don't want our clients to have to worry about the videography, too." Smith goes on to say that Absolute Vision Media Productions is quite proud of its ability to provide clients, especially those from out of state, with all of the equipment and staff needed to put on big events.
Sometimes those events include conferences—for businesses, universities, medical groups and so on—or corporate events, such as shareholder meetings or year-end reviews and so on. These events need a local Chicago crew and local Chicago video experts to facilitate said events, as flying crews in from out of state is simply too expensive (especially when it comes to equipment). Finding local Chicago crews is often the most expedient way to get the required coverage and desired results. It helps, of course, that these local Chicago film crews and video experts know the city so well. So if your production needs to suddenly become mobile, that's something which Absolute Vision Media Productions can accommodate.
Gone are the days when one could set up a simple microphone and call a conference to order. Presenters require audio-visual help and organizers are often quite interested in simulcasting the event on the web. This means that the modern conference or corporate event is an audio-visual affair, a technological extravaganza. This means that every event requires an adept technological presence, and Absolute Vision Media Productions is well positioned to be that presence, having experience, local knowledge, and technological prowess working for them. If you're organizing a conference in Chicago and you want to contact Absolute Vision Media Productions about their services, e. mail Info(at)AbsoluteVisionMedia(dot)com.
About Absolute Vision Media Producitons: Absolute Vision Media Productions is a Chicago-based media and production company, and part of the Absolute Vision Media Inc. creative group. Whether for agency-style media, professional video production, local production crew, or general marketing and advertising, Absolute offers national-level experience with local connections and know-how for corporate, educational, commercial, and creative purposes.
To learn more, visit http://www.AbsoluteVisionProductions.com.
Contact us directly at 630.422.7311