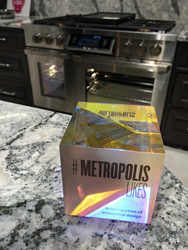 As a design and technology-focused appliance manufacturer, we've spent 50 years reimagining what is possible to enhance and elevate the culinary experience -- Dacor CEO Chuck Huebner
Los Angeles, CA (PRWEB) February 27, 2015
The Dacor®Discovery iQ™ 48-inch Dual-Fuel Range has won three prestigious awards within a matter of weeks, solidifying Dacor's reputation and position as the leading manufacturer of ultra-premium kitchen appliances. The product, which features Voice Activation, made possible by its integrated Android tablet, is just one of numerous award winners in the Dacor lineup.
"We are pleased to be recognized by industry thought-leaders for our innovative products," notes Dacor CEO Chuck Huebner. "As a design and technology-focused appliance manufacturer, we've spent 50 years reimagining what is possible to enhance and elevate the culinary experience."
The Discovery iQ 48-inch Dual-Fuel Range was honored with the 2014 GOOD DESIGN™ Award from the Chicago Athenaeum Museum of Architecture and Design in December. At the same time, judges announced yet another Dacor award-winner: the Discovery® 36" Gas TouchTop™. In January, the Discovery iQ Dual-Fuel Range was also listed among Better Homes & Gardens 30 Most Innovative Products for its combination of smart function, seamless style, and cutting-edge technology. That same month, the Discovery iQ Dual-Fuel Range received a Metropolis Likes Award at the Kitchen & Bath Industry Show, Las Vegas, as one of the top innovative and unexpected must-see products.
"The Discovery iQ product line has redefined the connected kitchen," said Dacor President Steve Joseph. "With its ingenious and intuitive iQ Controller—which had already shared another good design award just for its beautiful user interface—it enables a whole new level of creativity and empowerment for the passionate chef."
# # #
Media Notes:
Dacor's innovative appliances have been recognized with many prestigious awards and accolades including:

2015 United Servicers Association Partnership Award
Tested and recommended by Le Cordon Bleu
Digital Trends Best of Consumer Electronics Show (CES) Home Award
Kitchen & Bath Industry Show (KBIS) Best in Show
Kitchen & Bath Industry Show (KBIS) Best of Kitchen – Gold
Kitchen + Bath Business (K+BB) Product Innovator Award
2013 and 2014 GOOD DESIGN™ Awards
CES Envisioneering Innovation & Design Award Honorees
Better Homes & Gardens Kitchen + Bath Ideas 30 Most Innovative Products Award
For more information about Dacor and its products, visit dacor.com.
About Dacor
Celebrating its 50th anniversary, Dacor is a manufacturer of ultra-premium kitchen appliances. Designed and built in California, Dacor's cooking appliances integrate function and technology to create high-performing, intuitive products that reflect the lifestyle and needs of the passionate cook. Since 1965, Dacor has been responsible for many of the innovations that have improved the way people cook in the modern kitchen. Dacor is family-owned and embraces the legacy, heritage and expertise of a third generation to lead the company into a new age of cooking innovation. Dacor is also the first and only ultra-premium appliance brand to be tested and recommended by the Master Chefs of Le Cordon Bleu. Le Cordon Bleu is considered the world's most respected culinary arts and hospitality educator.