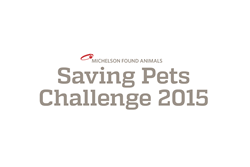 Los Angeles, CA (PRWEB) March 02, 2015
Michelson Found Animals (http://www.FoundAnimals.org), an independently funded nonprofit working to find the big ideas that reduce euthanasia in shelters, today announced that registration is open for its second Michelson Found Animals Saving Pets Challenge. With even more incentives compared to the 2014 challenge, animal welfare organizations from across the country are encouraged to sign up to raise funds through the CrowdRise platform for programs that benefit companion animals and address the underlying causes of shelter euthanasia in their community.
In its inaugural year, the Michelson Found Animals Saving Pets Challenge raised over $1 million toward programs aimed at reducing shelter pet euthanasia and reached over 175 humane societies, municipal sheltering agencies, spay/neuter clinics and rescue organizations. This year, the organization that raises the most money to help at-risk animals will win a $50,000 grant from Michelson Found Animals; second place will win $20,000; third place will win $10,000; fourth place will win $7,500; and fifth place will win $5,000. In addition, more than $25,000 in grants will be awarded during the Weekly Bonus Challenges giving every team an opportunity to win, not just the top fundraisers. There are no restrictions on the type of projects participants can raise money for, provided they address the common goal of increasing live outcomes of pets in shelters. Teams can raise money for projects that prevent shelter intake, or accelerate live releases.
"Due to the overwhelming success of last year's Michelson Found Animals Saving Pets Challenge, we wanted to bring back the campaign with bigger and better prizes to continue to make strides in reducing the number of pets euthanized each year," said Aimee Gilbreath, Michelson Found Animals Executive Director. "We understand that saving pets take money, so we're here to help organizations large and small make an even larger impact in their local communities."
The Michelson Found Animals Saving Pets Challenge launches Monday, May 4th at 12:00 p.m. ET and runs through Friday, June 5th at 1:59:59 p.m. ET. Organizations are encouraged to start registering now for Michelson Found Animals' approval into the Challenge.
For details and to apply now, visit: http://www.crowdrise.com/SavingPetsChallenge. For more information on Michelson Found Animals, please visit http://www.FoundAnimals.org.
About Michelson Found Animals
The Michelson Found Animals Foundation, funded by Dr. Gary Michelson and his wife Alya Michelson, is a Los Angeles based non-profit organization that works to achieve one goal: find the big ideas that help reduce the number of pets euthanized in shelters each year. Led by business and medical professionals, we develop innovative solutions that address the underlying causes of shelter euthanasia. Programs address pet adoption, low-cost spay neuter services, pet microchipping and registration, and sterilization research. By offering a wealth of educational resources to pet owners and animal care professionals, Michelson Found Animals advances the health and safety of animals everywhere. Follow our progress online at http://www.FoundAnimals.org, or via social media at Facebook, Twitter, and YouTube.
For more information on the Michelson Prize & Grants: michelsonprizeandgrants.org
For more information on Found Animals Registry: found.org
For more information on Found Animals Adopt & Shop: AdoptAndShop.org
About CrowdRise
CrowdRise is the platform that millions of people, charities, companies and celebrities use to give back. People use the site to donate to and fundraise for the causes they're passionate about. CrowdRise's unique approach to making giving back fun and notable and cool and interesting creates a network effect that drives amazing awareness and, most importantly, revolutionary fundraising for thousands of organizations everyday.
Launched by Edward Norton in 2010, CrowdRise the fastest growing and largest online fundraising platform for good. We have raised over $200 million for charity to date. If Facebook is the place that defines you by your friends and Twitter is what you use to say what you're doing right now then CrowdRise is the site for you to show how you give back. The power of the crowd is real, lots of small donations really do add up to create monumental impact.
CrowdRise is committed to innovation in fundraising, and making raising money for charity fun and effective. We're the friend-to-friend platform for the New York City Marathon, the Boston Marathon, Red Cross, Unicef, Ironman as well as celebrities like Sean Penn, Seth Rogen, Ian Sommerhalder, Sophia Bush, Paul Rudd, Olivia Wilde and so many more. The CrowdRise community was named a "Top 25 Best Global Philanthropist" by Barron's. We beat Oprah. And, Mashable named CrowdRise something like "the best place to raise money online for your favorite causes."
# # #