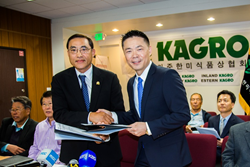 City of Industry, CA (PRWEB) March 03, 2015
US Bankcard Services, Inc. (USBSI) and the California Korean American Grocers Association (KAGRO) held a joint press conference to announce their official collaboration on February 26, 2015 at the Korean American Community Center in Los Angeles. In attendance were Mike Kim, President of California KAGRO; Chris Chang, President of USBSI; several representatives from each company; individual member businesses; and a number of mainstream Korean media. The two companies announced that USBSI will be providing an aggregate online ordering website to KAGRO members, as well as a complete POS system to members who are approved with a new merchant account.
KAGRO members represent individual businesses, the majority of which are independent grocers, convenience and liquor stores. Through the two companies' collaboration, members who sign up for credit card processing services with USBSI will receive a free loaner POS system upon account approval. Business owners will benefit from streamlined business operations while enjoying USBSI's multi-lingual customer service and technical support.
In addition, the two companies are working together to establish an online ordering website, where KAGRO members can conveniently place supply orders. KAGRO will then consolidate the online orders and negotiate bulk deals with vendors to obtain significant discounts for their members. This website will be developed by USBSI using its sure3 Online Solutions platform. Mike Kim, President of California KAGRO, encouraged the active participation of its members. "With this solution, we will be maximizing our collective purchasing power and securing competitive pricing, so savings can be passed through to each member business."
Chris Chang, President of USBSI, is optimistic of the partnership. "We are extremely excited to announce our collaboration with KAGRO to provide solutions that will benefit its members and the organization as a whole. We are honored to have this opportunity and hope to maintain a strong and lasting relationship." The partnership extends USBSI's reach and involvement within the Korean American business community, building upon its existing advantage in serving business owners of diverse ethnical backgrounds.
About California Korean American Grocers Association
The California Korean American Grocers Association is a non-profit organization that has associate stores in communities throughout Southern California including Los Angeles, Orange, Riverside, San Bernardino and Kern Counties. California KAGRO has its office in Los Angeles, California.
About US Bankcard Services, Inc.
US Bankcard Services, Inc. is a top rated MSP that offers competitive rates, incredible customer service support, and cutting edge technology in credit card processing service. USBSI offers a wide array of value-added services, including sure3 online turn-key solutions, gift card services, check guarantee, PCI-DSS compliance consultancy, and 24-7 multilingual customer service and technical support. US Bankcard Services, Inc. is a registered MSP/ ISO of Elavon, Inc. Georgia
For more information about merchant bankcard services please visit us at usbsi.com or call us at: 1-888-525-8558.
###