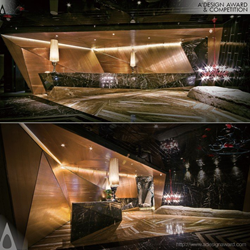 Como, Italy (PRWEB) February 28, 2015
A' International Design Award and Competitions are delighted to share that the project De Kang Club by Yong Cai Huang won the Golden A' Design Award at the Interior Space and Exhibition Design Competition.
More information on De Kang Club
Yong Cai Huang, the project leader of the award winning interior design project De Kang Club, said, "Dekang is located in the commercial center of Guangzhou, China. De Kang Club is a high-end SPA aimed for business people with a modern touch. The De Kang Club project aims to integrate an 'urban landscape' concept within the interior design by using urban elements within the interior spatial design." Learn more: https://competition.adesignaward.com/design.php?ID=30438
The Golden A' Design Award
The Golden A' Interior Design Award is a prestigious award given to the top 3 percentile designs that have accomplished an exemplary level of quality in design. Entries to the A' Interior Design Awards are evaluated by a grand jury panel of experienced design professionals, press members and academics who peer review and anonymously vote on entries to choose the best projects among thousands of entries. Laureates of the A' Interior Design Awards are granted the A' Design Prize to celebrate the status of winning the accolades.
About A' Design Award and Competition
The International A' Design Award and Competition aims to highlight excellent qualifications of best designs, design concepts and design oriented products in all countries and in all industrial sectors. A' Design Award and Competition is organized and awarded annually and internationally in multiple categories to reach a wide, design-oriented audience. The purpose of the competition is to create a global awareness for good design practices and principles. Learn more about the design competition at: http://www.adesignaward.com