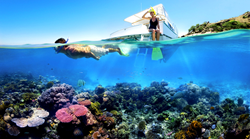 When people come here, they have a great time, so we're getting a lot of positive word of mouth each year.
San Ignacio, Belize (PRWEB) March 02, 2015
With students across North America busy planning their spring break vacations, Belize's hospitality industry is facing a question - Can a small, tranquil Caribbean country with more of a reputation for pristine nature than wild partying compete with more established destinations for spring break traffic?
The answer is looking more and more like yes, according to The Lodge at Chaa Creek, a Belizean eco resort set within a 365 acre private nature reserve on the banks of the Macal River.
Chaa Creek's food and beverage manager Bryony Bradley Fleming said she is seeing a steady rise in the number of spring breakers coming to Belize who are "looking for something different."
"Not too long ago, we assumed that spring b reak celebrations were pretty much confined to placed like Daytona, Cancun, San Diego and other well known party hotspots, but we've been happily surprised to see a big rise in the number of enquiries about spending spring break in Belize," she said.
"And when people come here, they seem to have a great time, so we're getting a lot of positive word of mouth each year," she added.
With thousands of acres of protected wilderness supporting winding jungle rivers, an unspoiled Caribbean coastline with hundreds of tiny islands sheltered by the world's second largest barrier reef and close proximity to North America, Belize always seemed to have the ingredients to become a spring break mecca, except for one crucial element – name recognition.
"Belize has only really had a vibrant tourism industry since independence in 1981," Ms. Bradley Fleming explained. "Up until then, we were relatively unknown, so there wasn't a budget or the expertise to properly market what we have to offer. And, to be honest, there wasn't the infrastructure in place to support a lot of tourism back then."
All of that has changed over the years, and now, with Belize enjoying one of the highest rises in tourist arrivals in the region, more and more people are considering the country as a less crowded, more exotic spring break alternative.
"Now that we can offer things like jungle zip lining, cave tubing, windsurfing, world class diving, horseback and mountain bike excursions though jungle trails, Maya temple tours and access to sacred Maya caves filled with artefacts and much more, people are waking up to the possibilities," she said.
"And the fact that Belize is English speaking with the Belize dollar pegged two-to-one to the American dollar makes it easy for people to relax and enjoy themselves.
Ms. Bradley Fleming said that Chaa Creek is putting a special emphasis on welcoming spring breakers this year.
"We've built a reputation as Belize's 'destination within a destination' due to all the activities and amenities we offer, and having a network of colleagues on the Caribbean coast, cayes and reef means we can help people organise a complete Belize holiday right here. With our Rainforest to Reef all-inclusive Belize vacation packages, for example, guests can seamlessly enjoy a jungle and Caribbean holiday for one affordable set price," she explained.
Chaa Creek's all-inclusive Belize vacation packages include accommodation, all meals, transfers, activities, access to all amenities within a 365 acre private nature reserve, government taxes and staff gratuities, with the Rainforest to Reef packages allowing guests to split their vacation between Chaa Creek and a sister resort on the Caribbean for one set price.
"People like these Belize vacation packages because, if you paid individually for what's offered and added everything up, it would be impossible to do for that price. They're a great value, and are also hassle free, since everything is taken care of from the beginning with no added charges or surprises once you're here," she said.
Ms. Bradley Fleming said the growing popularity of Belizean music on the world music scene, a more sophisticated food culture and Belize's reputation as having a fondness for dancing and partying are also factors that are attracting a growing number of young people each year.
"Belize is known for being unique, and I think that's attracting a lot of people looking to do something different and still have a great time over spring break. Our reputation for being friendly and producing excellent music, beer, rum and fresh exotic fruit juices probably helps too," she added.
ENDS