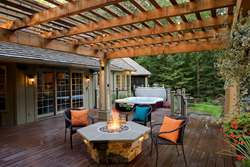 "We have moved far beyond the simple deck or back patio," said Karen Filloon of Southview Design.
(PRWEB) February 28, 2015
Southview Design is gearing up for the long-awaited spring and summer by showcasing several of its winning designs for outdoor "living rooms."
Outdoor rooms can be luxurious or low-key, elegant or casual, depending on the homeowner's lifestyle and budget. Frequently an extension of the home's indoor spaces, outdoor rooms can be created with or without walls.
Southview Design uses both hard and soft landscape elements in its outdoor room designs to create a variety of spaces for living and dining, cooking and entertaining.
When designing outdoor spaces, the first consideration should be the style and architecture of the home, said Karen Filloon, a landscape designer with Southview Design. "The outdoor space should be a natural extension of the home, whether it's Craftsman or contemporary, Art Deco or Queen Anne," she said.
The latest trends in outdoor rooms now include fireplaces, fire pits, entertainment centers, kitchens and bars. "We have moved far beyond the simple deck or back patio," Filloon said. She said outdoor kitchens have increased in popularity as more homeowners experience the joy of cooking in their own back yard.
Outdoor kitchens can range from a simple stand-alone grill to a complete kitchen with built-in grills and ovens, refrigerators and storage. Outdoor kitchens can be put on a back deck, making food preparation more convenient as the cook can easily move back and forth between indoor and outdoor spaces. Wood-fired ovens are also popular, and these can range from a simple portable oven to a permanent landscape feature.
The most elegant outdoor living rooms are equipped with several luxurious features – vaulted, beamed ceilings, ceiling fans, lighting, sound systems, and TVs. Pergolas are popular, as they protect the outdoor living and dining rooms from the hot summer sun while creating a feeling of intimacy.
Due to the increasing demand for outdoor rooms, companies making furniture, carpeting, drapery, lighting and appliances have created new products that dry quickly, resist mold and mildew and can withstand even the harshest Minnesota weather.
For photos of several different types and styles of outdoor living rooms, visit: http://southviewdesign.com/newsroom/story-ideas/low-key-to-luxury.html