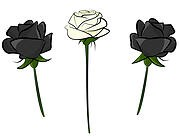 They passed away, but you still have more to say. Use Closure Cards to be heard.
Denver, CO (PRWEB) March 02, 2015
Almost everyone has lost a loved companion or family member due to death. For most, it is difficult to believe they are gone, and many words may have been left unsaid. It would be helpful if a special card could be bought, but stores currently do not carry cards for the deceased. Now, individuals can purchase Closure Cards to clearly express their feelings and "be heard" by those who have passed. A Kickstarter campaign has been launched to make Closure Cards available to the grieving.
The front of the Closure Card reads, "Rest In Peace," and includes a beautiful image of a white rose flanked by two black roses. With a funding goal of $1,100, Closure Cards plans to cover printing costs, supplies, and to send the cards to the campaign's supporters. As long as the company meets its goal by the project end date of March 29, 2015, supporters can expect delivery of the greeting cards in May of 2015.
Closure Cards founder, Nicholas Shelton, describes, "They passed away, but you still have more to say. Use Closure Cards to be heard."
Those who are mourning the death of a friend or family member can choose from eight thoughtful pre-written messages or a blank inside option, created especially for the deceased. A personal message can be written in the card. Then, the messenger can "send" the card in whatever way he or she deems appropriate. Examples of sending the greeting card include burning it in a fireplace or fire pit, burying it in a special or beautiful place, or simply placing it at the grave site or memorial. The thoughtful cards can be written even years after the passing of a loved one.
To order Closure Cards and support the crowdfunding campaign, visit https://www.kickstarter.com/projects/741449953/closure-cards-greeting-cards-for-the-dead. The greeting card creator is offering an early bird special to a limited number of backers who pledge $4. Early bird backers will receive one closure card with a chosen message and a matching envelope.
About Closure Cards:
Closure Cards was founded by Nicholas Shelton after experiencing the emptiness of not being able to say goodbyes and receive closure after the passing of a loved one. Closure Cards are greeting cards designed specifically for the deceased, and they allow mourners to express what they want to say. To view more about the new company, visit http://www.closurecards.com/.