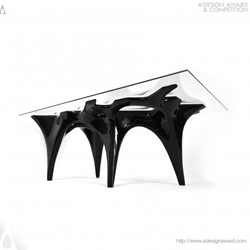 Como, Italy (PRWEB) February 28, 2015
A' Design Award and Competition is pleased to announce that the project FLUX table by Studio Integrate has been acknowledged with a Golden A' Design Award at Furniture, Decorative Items and Homeware Design Competition.
Regarding FLUX Table
Studio Integrate the creative team behind the award winning table design project FLUX said "Mehran Gharleghi and Amin Sadeghy from Studio INTEGRATE have created "Flux Table" within their exploration of fusing historically rooted geometries with contemporary modes of computation. Its intricate form and pattern is derived from a basic "Toranj", a mathematical pattern used in Iranian architecture; from which a smooth transition between two layers of a strict geometric pattern is constructed. The geometrical pattern at the top surface fuses to the bottom layer through a series of multi-directional arches. The generated form is manufactured using digital fabrication." Learn more and download high-resolution photos at: https://competition.adesignaward.com/design.php?ID=31265
Team Members for FLUX Table
FLUX Table was designed by Mehran Gharleghi and Amin Sadeghi.
The Golden A' Design Award
The Golden A' Furniture Design Award is a prestigious award given to top 3% percentile designs that has carried out an exemplary level of quality in design. The designs are judged by a panel of three different jury which is composed of Academic, Professional and Focus Group Members. The designs are evaluated with score normalization to remove any biases and are voted on aspects such as functionality, ergonomics, engineering, presentation, innovation, usability, fun details, technology, and any other specific points that could be considered, each of these points are further weighted for different jury groups. A' Furniture Design Award winners are granted the coveted A' Design Prize which includes the award trophy, yearbook, exhibition, design excellence certificate, gala-night invitation as well as publicity for the awarded work.
About A' Design Award and Competition
Since its establishment, the International A' Design Award and Competition has been creating a global awareness for good design practices and principles by recognizing and advertising good designs in all countries and in all disciplines. The A' Design Award aims to highlight the excellent qualifications of best designs, design concepts and design oriented products to general public in order to create a deeper understanding of design value. A' Design Award and Competitions are organized and awarded annually and internationally in multiple categories to reach a wide, design-oriented audience. Learn more about the A' Design Awards at: http://www.whatisadesignaward.com