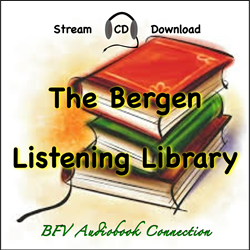 This is a great way to support busy students who are preparing for college by giving them the means to listen to Literary Classics anytime, anywhere. - Diana Andrade, Publisher, Brook Forest Voices
Evergreen, Colorado (PRWEB) February 28, 2015
Brook Forest Voices, audiobook producer and publisher, has created the BFV Audiobook Connection for public and private schools, a service designed to allow schools to offer audiobooks by streaming audio or on CD.
The BFV Audiobook Connection for School Libraries was developed to directly satisfy school library concerns: inventory investment, shelf space, books in multiple formats and access to classic literature matching the school's curriculum.
BFV resolves these issues by allowing school libraries to test drive the new program followed by a very affordable subscription fee. School librarians may choose from either the standard BFV widget design or use a specially designed clickable widget utilizing the school's logo, which would be placed on the school library website.
"School librarians are always looking for new ways to support teachers and students with minimal investment. We think the BFV Audiobook Connection for school libraries offers exactly that," stated Diana Andrade, former teacher and now publisher at BFV.
About Brook Forest Voices: a complete audio production studio located just west of Denver in Evergreen, CO, specializing in audiobook narration, production and publishing. BFV helps large and small publishers, as well as authors, with all their audio needs. School Librarians wanting to learn more should visit http://www.brookforestvoices.com, or contact Christian or Diana at 303-670-4145.