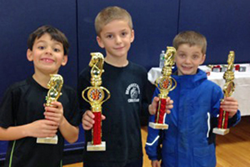 White Plains, NY (PRWEB) February 28, 2015
Do you have an aspiring tournament chess player in the family? The National Scholastic Chess Foundation is introducing weekly small group classes at its White Plains office for school aged players who want to improve their competitive ability. Affordable small group classes allow for plenty of individual attention.
The classes, which run from 4:45 to 5:45 on Tuesday afternoons, are for students rated 600 to 999. Children will learn strategy and tactics guaranteed to improve their game. Limited to just 8 students, the class is $180 for 8 weeks beginning March 10, 2015.
For over 25 years, NSCF has offered chess instruction within the curriculum as well as in after school and community programs with partners such as Boys & Girls Clubs and the YMCA.
For more information or to register, visit the Classes and Camps tab at http://www.NSCFchess.org or telephone 914-683-5322.
About NSCF: Dedicated to improving education and inspiring excellence through chess, the National Scholastic Chess Foundation specializes in curricular chess instruction and offers strategic development support for schools and other partners. With headquarters in White Plains, NY, NSCF offers chess instruction within the curriculum as well as in after school in over 70 schools in 30 different communities in New York and Connecticut. NSCF's founder and executive director is FIDE Master Sunil Weeramantry, a nationally acclaimed instructor who has over 40 years experience teaching, coaching and developing award-winning programs.