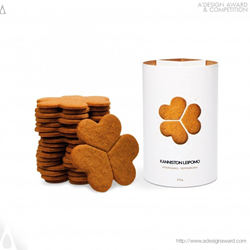 Como, Italy (PRWEB) February 28, 2015
A' International Design Award and Competition is pleased to announce that the packaging project Kanniston Gingerbread Biscuits by Packlab became winner of the renowned Golden A' Design Award at Packaging Design Competition.
More on Kanniston Gingerbread Biscuits Packaging
Packlab, the creative team behind the award winning project Kanniston Gingerbread Biscuits said, "We redesigned the whole core products from the cookies themselves to the packaging format; by doing so we enable the product to be the hero of the whole communication and show a difference in its functionality. This all was achieved by keeping things simple. " To learn more visit: https://competition.adesignaward.com/design.php?ID=31310
The Golden A' Design Award
The Golden A' Design Award is a prestigious award given to top 3% percentile designs that has carried out an exemplary level of sublimity in design. The designs are judged by a panel of three different jury which is composed of Academic, Professional and Focus Group Members. The designs are evaluated with score normalization to remove any biases and are voted on aspects such as functionality, ergonomics, engineering, presentation, innovation, usability, fun details, technology, and any other specific points that could be considered, each of these points are further weighted for different jury groups. Laureates of the A' Design Award are given the A' Design Prize and are further invited to join the World Design Consortium.
About A' Design Awards
The A' Design Award & Competition has a philanthropic goal to advance society by pushing the frontiers of science, design, creativity and technology forward by creating incentives for innovators to come up with better ideas. The A' Design Competition aims to create incentives that ignite and reward creativity, original ideas and concept generation in all industrial sectors. The "A' Design Award Winner" logo, given to award winning designs, signifies original, functional and efficient designs that help the world become a better place. Learn more about A' Design Awards at http://www.whatisadesignaward.com