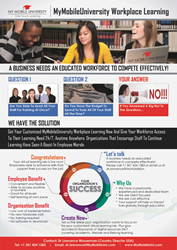 "An investment in knowledge pays the best interest." Benjamin Franklin
Malaysia (PRWEB) February 28, 2015
The MCA Youth Empowerment Conference aims to bridge youths from all across Malaysia into one platform and gears towards the goal for a better future for all Malaysians, said Wemel Cumavoo Co-Founder/CEO My Mobile University.
A series of group talks in smaller groups will be held after the conference with topics like Nation Building, Education, Personal Development, Leadership, Entrepreneurship, Healthcare, Social and Volunteerism, Women and Youth Empowerment, to engage and raise awareness of Malaysian youths.
Young adults aged between 18-30 years that have access to technology for education purposes will help them out of poverty and assist them in their success. My Mobile University a global initiative to impact lives through education by LTT Global Communications, a global pioneer and an award winning mobile learning company serves as Learning Partner for the Inaugural MCA Youth Empowerment Conference with its theme Moderation, Youth Empowerment & Education Toward Vision 2020. The conference will address topics on Moderation Politics and current issues trending in Malaysia.
My Mobile University strongly believes that Malaysian youths are the pillars and future leaders of tomorrow. Realizing that there is a lack of interests in current political issues and happenings among our youths, we would want to make a change. "We hope that this conference will be a kick starting movement to motivate and inspire Malaysian youths to open up their minds and be susceptible towards the pressing issues that are happening in the country", says Dato' Lawrence Low Kah Guan, MCA Youth National Central Committee Member, MCA Youth Selangor Education Bureau Chief and serves as the Organizing Chairman of What Youth Should Know.
"We hope that Malaysian youths, regardless of ethnicity, gender and background will come for this empowering conference to not only listen, learn but also to interact and exchange their ideas of what a Moderate Malaysian should be. Most importantly, a Moderate Malaysian should be out there to make a difference", says YB Senator Chong Sin Woon, MCA Youth Chief, who launches the event.
Dato' Lawrence Low noted that he is pleased to have My Mobile University on board as Learning Partner as this will give Youths access to thousands of digital resources enabling Malaysian Youths to unleash one's personal potential to move up and thus able to seek better opportunities.
MyMobileUniversity, is a one-stop centre to access http://www.mymobileuni.com with no charge and quality learning content ranging from demand based programs in ICT, soft skills, entrepreneurship, leadership and language that will enhance their employability and to remain competitive, while at the same time the programs aim to evoke a long-term social change, noted Dr. Lawrence Wasserman, Vice President of Strategic Alliance and Honorary Advisor at MyMobileUniversity.
Registration for the conference is open to all Malaysian Youths 40 and below.
To register, visit the official Facebook page at facebook.com/whatyouthshouldknow. Follow the latest updates about the event on twitter @wysknow and hashtag #whatyouthshouldknow. The conference is also calling for volunteers and those interested can email to whatyouthshouldknow(at)gmail(dot)com.
For more information please email to founders(at)MyMobileUni(dot)com
About My Mobile University
My Mobile University is one-stop center to access free and quality learning content that offers learning on-the-go. My Mobile University provides students with scalable, online learning solutions, as global students, professionals, and businesses have to remain relevant in their pursuit of success and competitive.
About LTT Global
My Mobile University is a global initiative to impact lives through education by LTT Global an award winning mobile and web based learning company that has been pioneering learning on the go for the past 10 years. The company's vision is to enrich and empower organization from human capital development to business enterprise solutions. To organizations we provide a holistic, cost effective and efficient solutions using mobile technology innovation. Among its initiatives to promote awareness include the annual GoMobile and the Asia Pacific Mobile Learning Conference, the founder of the Asia Pacific Mobile Learning & Edutainment Advisory Panel (APACMLEAP) and the co-founder of the Mobile Industry Group (MOBIG) which is a special interest group. (http://www.LTTCOM.com)
ABOUT WHAT YOUTH SHOULD KNOW:
What Youth Should Know is organized by MCA Youth and an effort initiated by Dato' Lawrence Low Kah Guan, MCA Youth Selangor Education Bureau Chief which aims to create a platform for Malaysian youths to realize their potentials as the future pillars of Malaysia. A series of talks and workshops will be conducted to engage more Malaysian youths to put on their critical thinking caps and start getting involved in their community. For more information about Moderation, Youth Empowerment & Education Towards Vision 2020, kindly contact Ms Jasmine Chan at 016-6668809 (jasmine22ckm(at)gmail(dot)com) or Mr Chua Gor Thong at 017-9780098 (chuagorthong(at)yahoo(dot)com), or email to whatyouthshouldknow(at)gmail(dot)com .
Please contact for mre Information:
Corporate HQ
Rani Wemel,
Co-Founder/COO
http://www.LTTCOM.com
founders(at)MyMobileUni(dot)com
Tel: +60377323443 Mobile: +60192070510 Skype: lttglobal http://www.Facebook.com/MyMobileUni
Dr Lawrence Wasserman
Vice President, Strategic Alliances
dr(dot)lawrence(at)MyMobileUni(dot)com | wfuture(at)hotmail(dot)com | Skype: galaxy139
Tel (O): +1 301.424.1383 | Fax: +1 301.424 1383 |
Cell +1 240.462.3471 | Skype: galaxy139 |Twitter: FORTECH139|