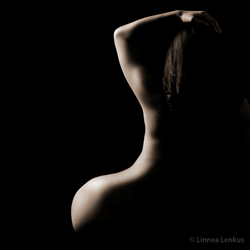 "My boudoir portraits celebrate the unique and complex beauty of women and are not at all geared towards the stereotypical boudoir photography of most boudoir photographers that portray women in erotic and often pornographic ways."
Los Angeles, California (PRWEB) March 02, 2015
Los Angeles boudoir photographer, Linnea Lenkus, will take part in the International Women's Day Celebration for the Southern California Chapter of the United Nations Entity for Gender Equality and the Empowerment of Women on March 8th, 2016 from 11am to 4:30. The event will be hosted by Polina Hryn with many artists and poets presenting their work with discussions about issues impacting women and girls. The special guest will be actress, writer, producer and director Celeste Thorson.
Lenkus will present her work and will talk about changing views of the female form, sexuality vs. beauty, and the progress that society needs to make to overcome suppression of women: "My boudoir portraits celebrate the unique and complex beauty of women and are not at all geared towards the stereotypical boudoir photography of most boudoir photographers that portray women in erotic and often pornographic ways."
Her idea of feminine beauty is different: "I offer a distinctive viewpoint as a women photographer addressing my photographic subjects not simply as 'things' but admiring the curves and lines of a woman's form in classic artistic style."
She will also challenge that seeing women as sexual objects instead of beautiful, revered beings perpetuates the idea that women are fantasy and sex objects.
The United Nations General Assembly created UN Women, the United Nations Entity for Gender Equality and the Empowerment of Women, in 2010 to impact the conditions of women all over the world. "Gender equality is not only a basic human right, but its achievement has enormous socio-economic ramifications. Empowering women fuels thriving economies, spurring productivity and growth. Yet gender inequalities remain deeply entrenched in every society."
The Southern California Chapter International Women's Day Celebration takes place in Clubhouse 6, 24061 Algarrobo, Laguna Woods. The cost is $39, $29 for senior citizens and $19 for students. Lunch will be served and a silent auction of artwork from the many artists from fine art photography, to sculptures, to jewelry will be offered. To RSVP call CeCe Sloan (949) 683-1278 or email cecesloa(at)gmail(dot)com
About Linnea Lenkus
Los Angeles photographer, Linnea Lenkus, specializes in Maternity, Children, Family and Celebrity photography as well as Fine Art Boudoir photography. Linnea is a highly experienced, internationally published, professional photographer with worldwide commercial success. In a photography session with Linnea, clients receive the benefit of her artistic eye and her technical mastery honed over decades of photography experience. Linnea Lenkus is the owner of two fine art portrait studios located in Pasadena and Long Beach California and the owner and curator of Los Angeles art gallery, Linus Galleries. See a photography video of Lenkus in action.