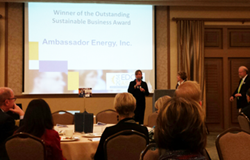 nurturing our family of employees has been the silver lining to any growing-pains along the way. This award is really for our entire Ambassador family
Murrieta, CA (PRWEB) February 28, 2015
Receiving the award for Ambassador Energy was its president, Kelly Smith, who commented, "We are honored to be recognized by the EDC. It is such a well-respected group of business professionals. I especially appreciate the category for which we won.
Sustaining a business in a volatile ecomony is certainly challenging. Bootstrapping, sustaining, growing, and striving to bring to fruition the vision that my partner, Steve Fulgham, and I have for Ambassador has been more demanding than I ever dreamed. On the flip side, hiring and nurturing our family of employees has been the silver lining to any growing-pains along the way. This award is really for our entire Ambassador family."
Ambassador Energy has sustained itself by diversifying its offering. While they began as, and continue to be, a solar sales and installation organization in Southern California, they have grown to be one the country's premier solar photovoltaic training companies. AE is accredited by the Interstate Renewable Energy Council, is a training provider for Mount San Jacinto College's fee-based program, is the solar trainer of thousands of individual solar professionals, and is the exclusive training partner of The Veteran Asset, a non-profit 501c3 organization who recruits and trains U.S. military veterans and places them into jobs within the renewable energy sector.
Smith said about the two verticals in the Ambassador business model, "Continuing the be a strong regional solar installer helps us stay relevant and tech-current in this quickly-evolving industry. The individual professionals and companies we train count on us to teach them the real deal, not just textbook curriculum. We even send our Director of Training into the field when she is not at the podium. That is most likely why our pass-rates for the North American Board of Certified Energy Practitioners (NABCEP) EL exam are well above the national average."
"We look forward to continuing our roles as solar installers and solar trainers within this wonderful community. We thank the EDC for the award and promise to sustain and thrive in this sustainable energy industry!"
About Ambassador Energy (AE)
IREC-accredited training provider with staff certified as NABCEP PV Installers and NABCEP PV Technical Sales.* CSLB #928112: General Contractor B, C10 Electrician and C46 Renewable Energy, providing design and installation of solar PV and solar training throughout the U.S. *fulgham/kelso